These free plans for a set of modern nightstands have clean architectural lines with a linear look. They have a single drawer and feature inset panels on the top, sides, and drawer front.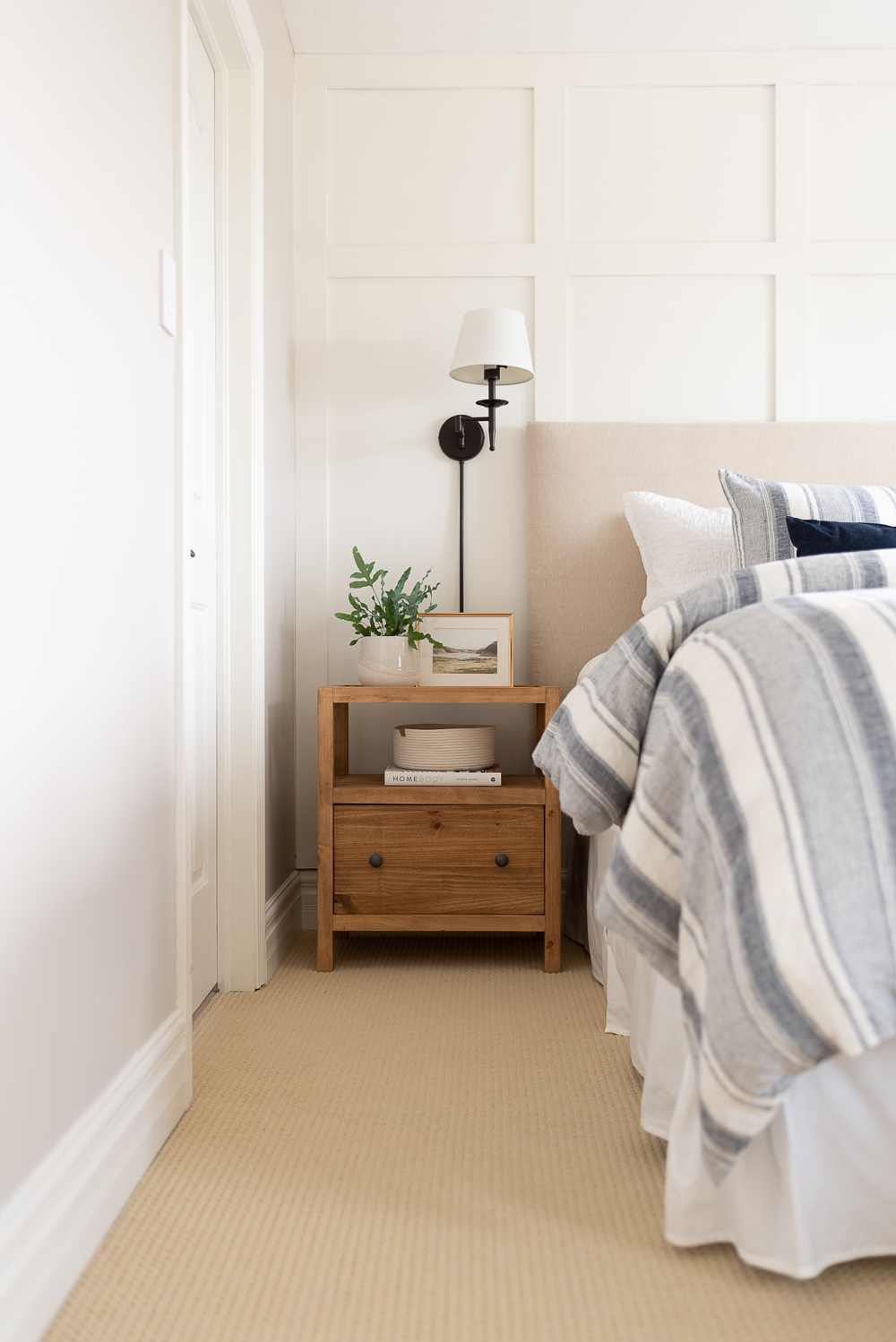 In my quest to build every piece of furniture in our home, I recently built these two nightstands to replace the basic ones we had in our master bedroom. It's not the first time I've built a pair of nightstands. A couple of years ago when we designed Zoe's bedroom, I built these little nightstands which are a totally different style but suit her room so well.
We found a style we liked for our master bedroom nightstands, but they were too large for either side of our bed, and frankly, well out of our price range. Every time Alicia sends me a photo of something she likes, I know that I'm going to have to find a way to recreate it on a budget and scale to fit our space while keeping the essence and intent of the piece. I like a challenge, so I rarely say no.
Plus, it's really nice to find a way to build something at a fraction of the price of the original. In this case, these nightstands would have cost more than $1,700 to purchase and I built them in just a few hours for $200, including hardware!
For this project, I'm going to use my Kreg Pocket-Hole Jig 720PRO. This is the newest model that hit the market this year, and it's honestly such a huge upgrade from the previous models. It now has features like the Automaxx™ clamping that really does save time and effort because it adjusts to the exact thickness of your material. Previously you'd have to set the jig manually and adjust as you drilled pocket-holes into different size boards.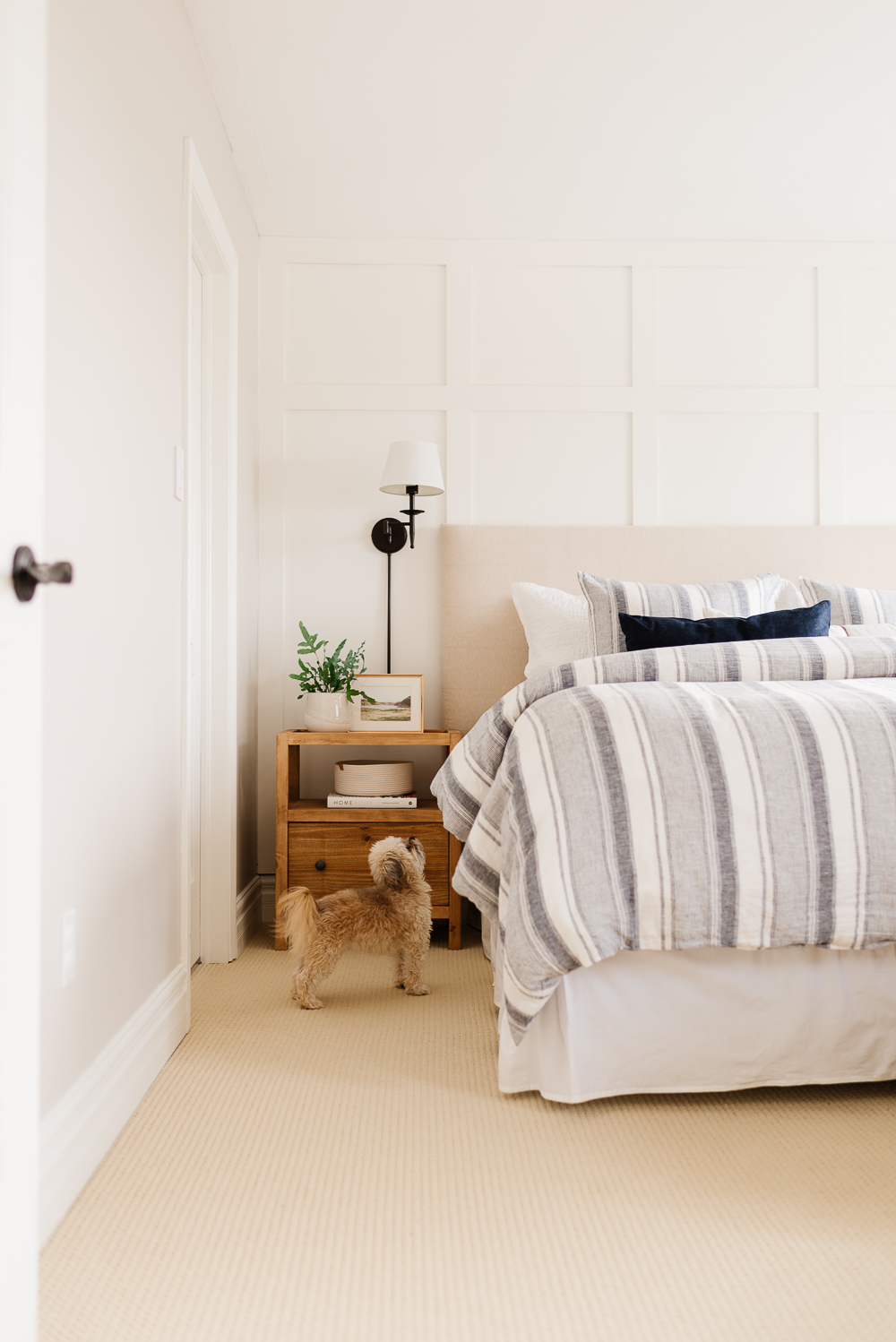 Two of my other favourite features are the Jig Clamp so that I can secure it directly to my workbench and the dust collection port. I mounted my last model to a plywood board and would clamp it to my workbench, but this is so much easier and allows me to fold the wings up and keep it out of the way when I'm not using it.
The ability to flip the pocket-hole jig around so that I can lay a board flat on the support wings and drill pocket holes is also a game-changer! I'm no longer trying to balance a giant piece of plywood vertically. I can now safely complete the task with the board in a horizontal position.
The Design
The design of these nightstands features a large drawer with soft-close slides, a shelf for easy access to your books, magazine, tablet, or phone. It also gives you another space to display items (and we can never have enough of those in our home…just ask Alicia!).
The drawer fronts, sides, and top are all inset to add dimension and a bit of visual interest to the piece. When I was designing the nightstands, I had originally planned for a flat top and flush drawer front, but I thought that was too boring. I had to make these small tweaks to give it a more interesting look.
I chose pine boards to make these nightstands because I wanted the grain to have some character. I thought of using white oak or maple, but they lacked a more obvious grain pattern. The stain colour is Early American by Varthane and is a perfect neutral wood tone. It adds just enough pigment to the wood without being too dark. I do always use a preconditioner on the wood when I'm working with pine as it tends to absorb unevenly.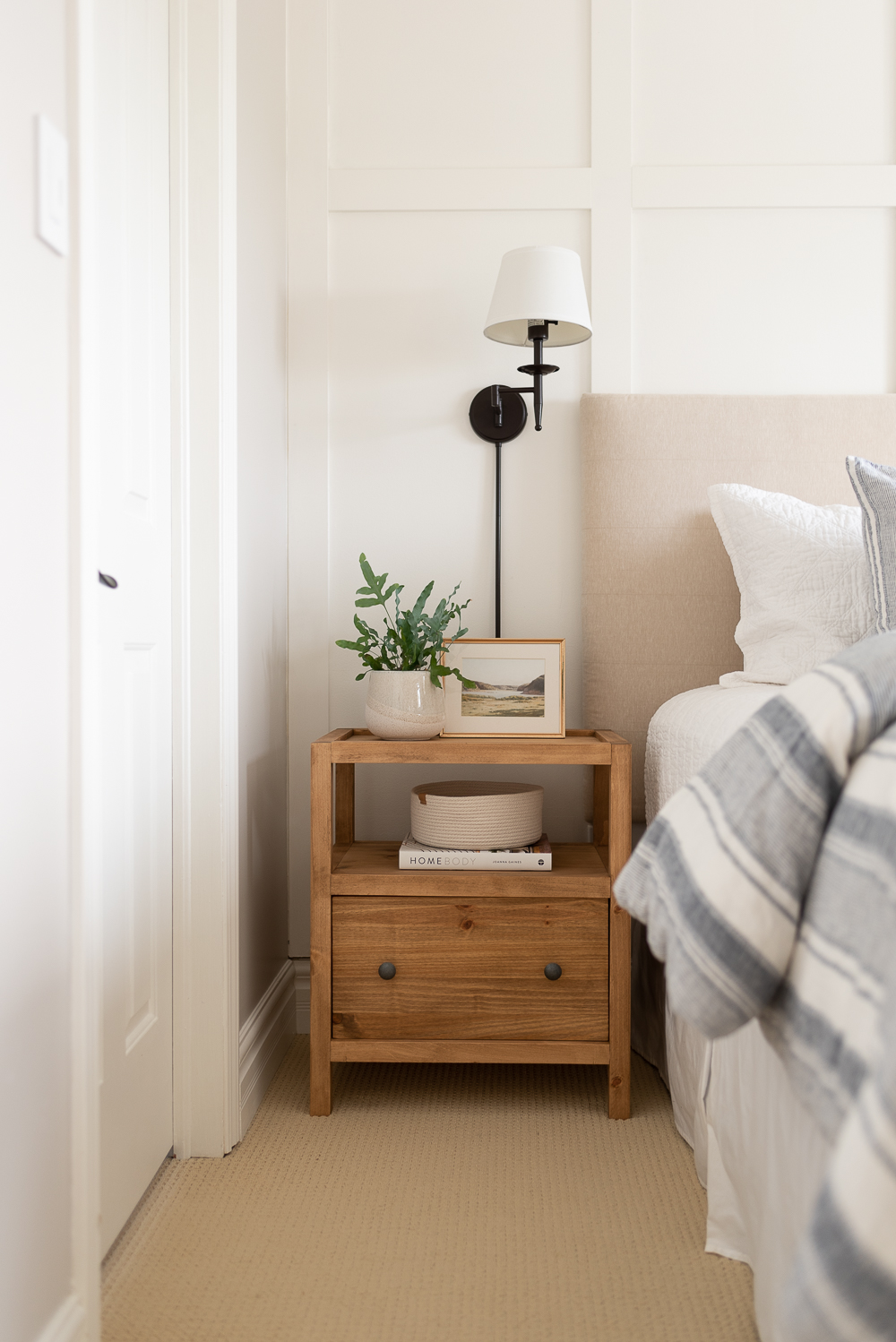 The Plans
We've teamed up with our friends at Kreg to bring you these free plans for a pair of modern nightstands. And while you're there, I'm sure you'll find lots of other projects to build with your Kreg Jig.
DISCLOSURE:
This post is sponsored by Kreg Tool Company.
We have received compensation and/or product for this post.
However, as with all our partnerships, all opinions and ideas are our own.