A soft colour palette, sweet toys, and classic furniture make up this equestrian-inspired girl's bedroom design plan.
Recently we shared that we are transitioning Ella from her nursery to a bedroom all of her own (see the design plan here), and the excitement has Zoe requesting a little update to her bedroom as well. It's been almost five years since we've made any changes to Zoe's bedroom (see her bedroom here), so we agreed it's about time.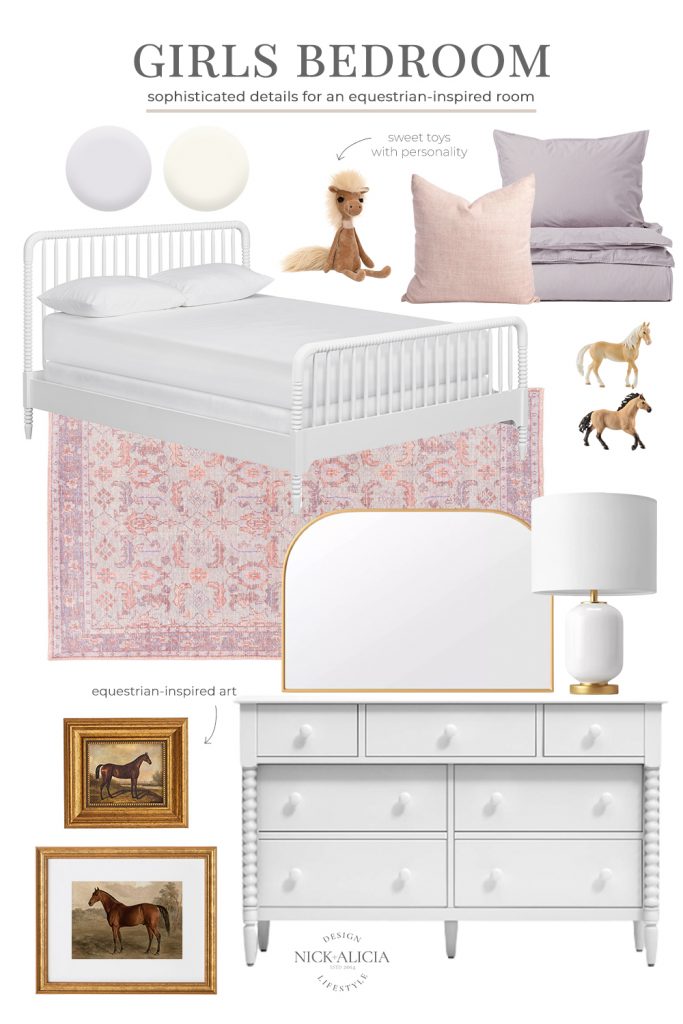 Purple Paint | White Paint | Horse Stuffed Animal | Pillow | Bedding | Bed | Rug | Horse Figurine | Horse Figurine | Mirror | Lamp | Horse Art | Horse Print | Frame | Dresser
I designed Zoe's bedroom using classic pieces that will grow with her, so typically, a refresh would include a few simple and inexpensive changes to bedding and accessories. However, if you read about Ella's bedroom design plan, you'll know Ella has requested a pink and blue bedroom, while Zoe's now asking for a purple bedroom. This makes it pretty easy for us because we can swap a lot of their pieces, like the beautiful handwoven rug from Ella's nursery.
Other than the colour purple, Zoe's also asked for a "horse" bedroom. As I've mentioned, when it comes to designing kids' spaces, I really try to avoid any specific themes and decorate using classic pieces that will grow with them. So, to embrace Zoe's love of horses, I plan to add a few beautiful vintage-inspired horse prints, figurines, and toys. These simple additions are inexpensive and easy to change in the months or years to come when her interests and hobbies also change.
---
get the look

---
Zoe's also mentioned a few times that her bedroom feels "too young", so in an effort to give her a space that feels a little more mature, I'm going to update her accessories and bedding with pieces that feel classic and sophisicated.
With these easy updates Zoe's bedroom will feel fresh and new, while giving her a space that feels more suited to her interests and personality. I think it's so important to provide little ones with a space that helps them feel comfortable and happy, while surrounded by the things they love.