We're sharing our favourite fall decor essentials this season. Cozy layers, dried florals, seasonal art, and entertaining must-haves are just a few simple ways you can welcome fall into your home.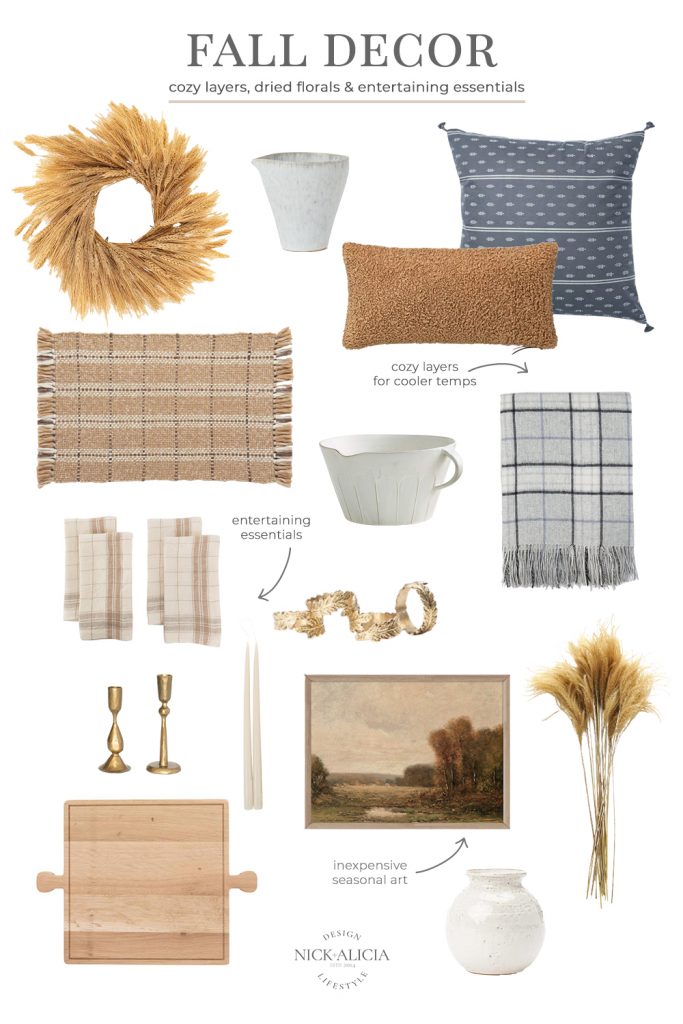 I absolutely love this time of year. The shift from summer to fall always brings the sense of a new beginning as the temperature begins to drop, the leaves start changing colours, and the kids return to school.
And while the seasons shift outdoors, so does the feeling in our home. It's a subtle change, reflected in the materials, colours, and patterns throughout our house. I don't believe seasonal decor needs to be expensive, time-consuming, or obvious. Instead, I think the focus should be on simple changes that carry your home throughout the fall and winter months. It can be as simple as incorporating a new wool throw or a vase full of fall branches.
Personally, I like to rely on textural elements and a warm colour palette to transition our own home from summer to fall. I usually begin by incorporating a few new pillows in a new colour or traditional pattern and of course, a couple of cozy throws as the days become colder. I replace our summer blooms with seasonal florals, like dried hydrangeas or cut grasses. And I usually pick up a few new pieces to use while hosting during the holidays.
These are easy elements to layer throughout our home and help it feel cozy and warm.
But creating a warm and cozy home is not from decor alone, we always look forward to baking our favourite fall recipes, like pumpkin pie baklava or homemade pumpkin loaf, because nothing says fall like the smell of cinnamon and pumpkin drifting from the kitchen.
Fall Decor Essentials

If you're looking for even more fall inspiration, be sure to check out our fall board on Pinterest!