Sweet and feminine details in white, pink, and blue create a dreamy bedroom for any little girl.
Transitioning your little one from a nursery to a bedroom all their own is a task that is always full of emotion. While it's fun and exciting to reach this milestone, it's also a little sad to pack away your baby's crib, mobile, and all of those other sweet details that have been around since the newborn stage.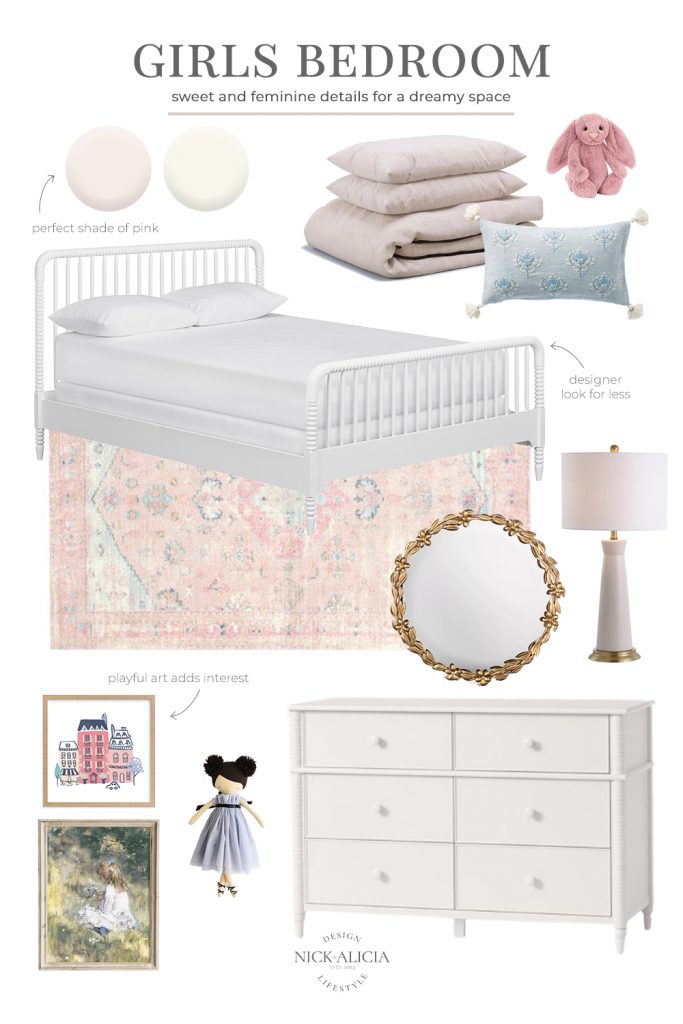 Pink Paint | White Paint | Bedding | Bunny | Pillow | Bed | Rug | Mirror | Lamp | House Print | Girl Print | Doll | Dresser
Lately, I've been embracing these feelings, while we begin transitioning Ella from a nursery to a bedroom of her own. She's so excited to make this leap and officially become a big girl. I've been including Ella in the design process, just like I did when we transitioned Zoe to a bedroom (see her toddler bedroom here), and listening to all of her ideas and suggestions. Now, depending on your budget and your child's imagination, it's not always feasible to incorporate everything they are hoping for. Or maybe you simply want to let your child have input while keeping the design of their bedroom in line with the rest of your home. Start by creating a design plan based on their suggestions and then provide multiple options for pieces that will really reflect their personalities, like art, bedding, and accessories. This will let your little one still help make decisions while keeping the overall design and budget within reason. If you're looking for even more help, see our tips for designing and decorating a kid's bedroom here.
Luckily for us, Ella's biggest request has been in regards to colour. Her nursery is currently a beautiful shade of purple (see her nursery here), but she's been very insistent that she wants a pink and blue bedroom. That's a pretty easy request for us because it simply comes down to paint and swapping out the rug in her room (which will conveniently be passed down to Zoe, but more on that later!). Other than the colour she hasn't asked for anything specific, so I started designing a bedroom that I felt fit her sweet personality.
---
get the look

---
My biggest piece of advice for designing kids' bedrooms is to think ahead. When it comes to furniture (or any other big expense) choose pieces that are timeless and will grow your child. From the beginning, I knew I wanted a Jenny Lind bed or similar style, the intricate detail of the woodturning gives it such a classic and feminine feel. I love this one and this one, but in the end, we choose this beautiful option because it was much more budget-friendly (and just as beautiful).
Once I decided on the bed, I moved on to the pieces that would bring in a bit of colour and fun, like a rug, art, bedding, and accessories. Typically, I start with a rug, and pull colours and mix patterns for the rest of the room from it.
I mentioned we would have to repaint Ella's room, which isn't a big deal, especially considering much of the wall is covered in board and batten wainscoting (see our board and batten tutorial here) which will stay white. I've poured over paint samples and I think I've decided to use Pink Bliss again, it's currently the colour in Zoe's bedroom (see it here) and I really really love it.
This is our starting point, and while I'm a little sad to say goodbye to her sweet nursery, I am having a lot of fun designing her big girl bedroom. We will hopefully share the reveal of her finished bedroom in a month or so, but in the meantime, we will be sharing Zoe's bedroom plans tomorrow! We promised her a little update too while we are working on Ella's bedroom.