2021 Holiday Gift Guide for Kids full of beautiful gifts that will inspire imagination and creativity
It seems everyone is shopping early this year and with good reason. The global supply shortage and longer than normal delivery dates mean it's a good year to get your holiday shopping wrapped up early. And to help out, this week we will be sharing our 2021 Holiday Gift Guides for Her, Him, Kids, and our favourite stocking stuffer ideas to inspire you to find the perfect gifts for everyone on your list.
The Holiday Gift Guide for Kids is always my favourite to compile each year! There are so many wonderful toys, activities, and games that are not only adorable, but that will expand the creativity and imagination of any child. While shopping for gifts for our girls I always try to pull ideas from four main categories:
Imaginative Play – Any type of toy that will inspire your little ones to use their imagination, like dolls, train sets, play kitchen, etc.
Books – Inspire their love of reading with a brand new book under the Christmas tree. These are our favourite children's books.
Activities – Puzzles, games, and arts and crafts are all great gifts to inspire kids to keep busy and learn new skills.
Experiences – Experience-based gifts are gaining in popularity and are a great opportunity to give kids new and exciting adventures. Tickets to an event or show, enrollment in a program or class, or movie passes all provide kids with an exciting new opportunity to look forward to.
Before you dive into our 2021 Holiday Gift Guide for Kids be sure to check out all of our 2021 Holiday Gift Guides:
2021 Holiday Gift Guide for Kids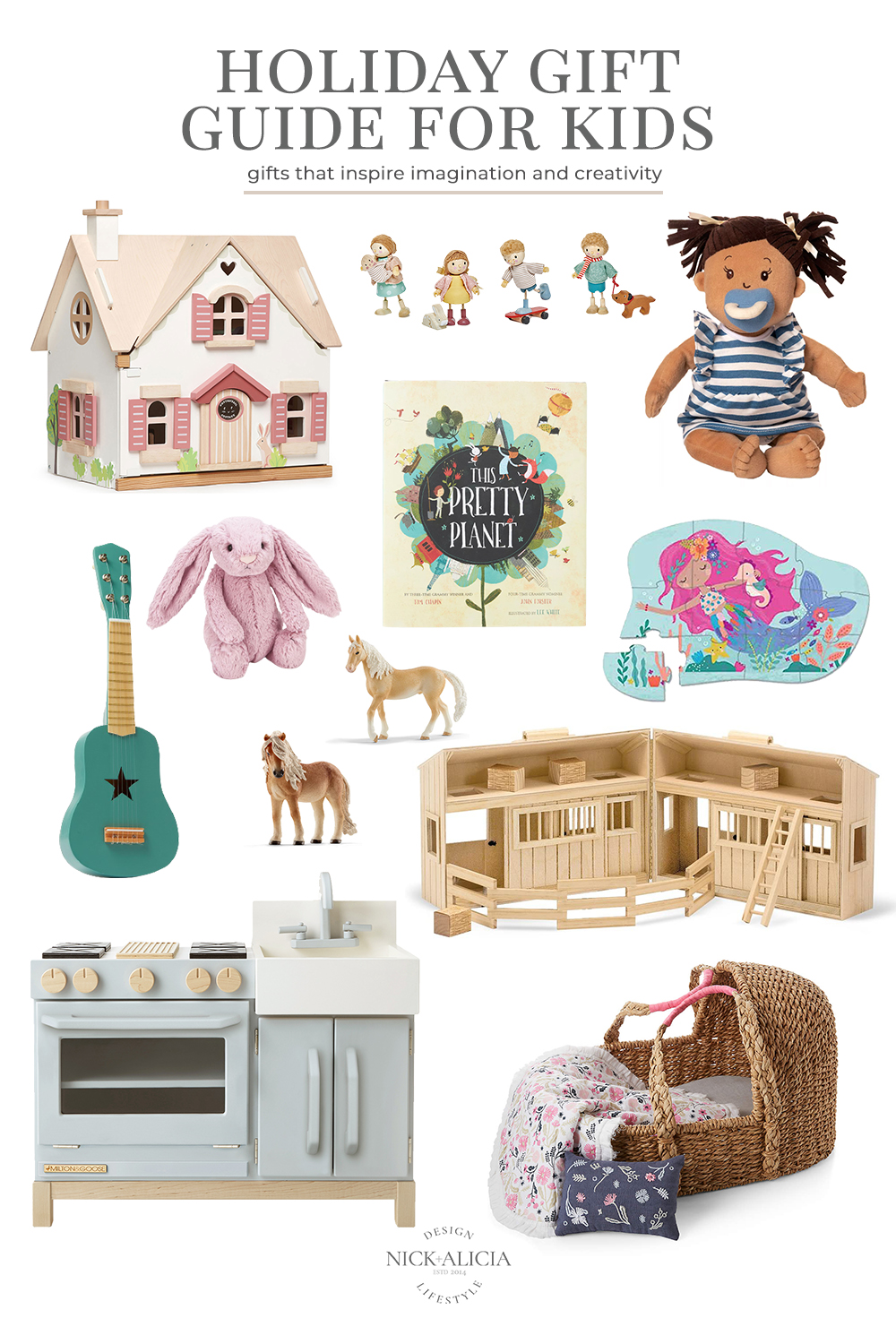 Doll House | Doll Family | Baby Doll | Guitar | Bunny | Book | Puzzle | Horses | Stables | Kitchen | Doll Bassinet
For even more ideas…