Our Christmas decor essentials are classic pieces like garland, knit stockings, and vintage-inspired decor to create a festive holiday home!
While it's still too early to start decorating for Christmas, it's definitely not too early to start planning your holiday decor and ordering those pieces that always sell out fast! I pulled together the essentials I rely on every year and a few new pieces I'll be adding to our collection this year.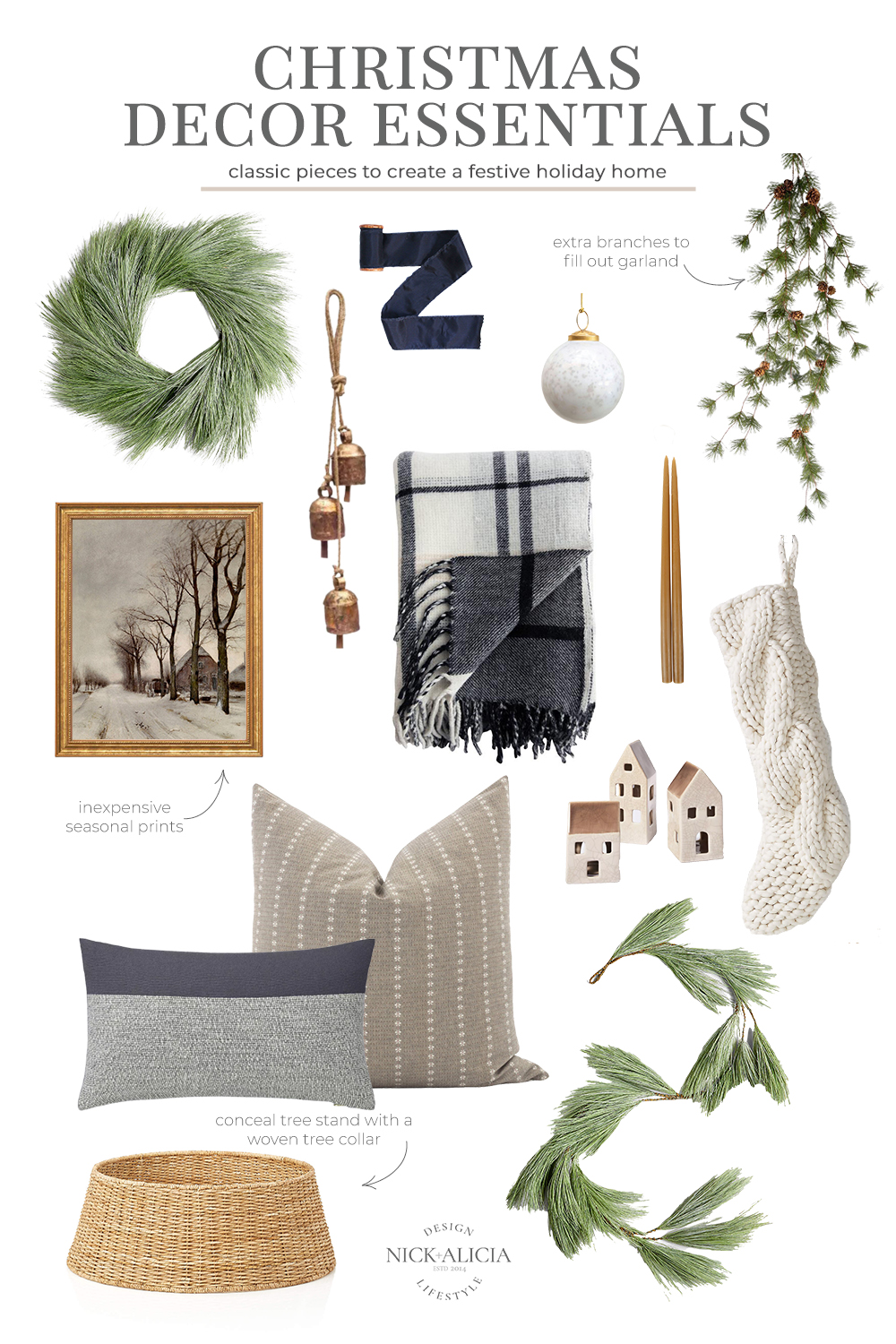 Wreath | Bells | Ribbon | Ornament | Branch | Frame | Art Print | Throw | Candles | Stocking | Lumbar Pillow | Square Pillow | Ceramic Houses | Tree Collar | Garland
Just like any other season or holiday, I tend to decorate using classic pieces that I'll love for years to come. I avoid anything too "themey" and rely on textiles, art, and accessories to convey the feeling of the season.
Obviously decorating for Christmas is a little different than decorating for spring, summer or autumn, because I do like to layer in a lot of holiday cheer with greenery, subtle decor, and of course a big statement tree. But I also add pieces like new pillows, a throw, and inexpensive art that will stay long after the Christmas season is over. It's these pieces that help transition our home to winter once the tree comes down and the twinkle lights are packed away.
Our holiday decor this year will be very similar to last year (here), I'll be using a lot of navy, blue, white, and a little bit of brown throughout our home. While this is my go-to palette lately, I did try something very different a few years ago, you can see it here.
I hope our holiday picks will inspire your own holiday decor, and remember if you're planning to add any new pieces to your collection this year order it soon! Find even more holiday decor ideas below, or visit our Christmas Shop page for our current favourites.
Christmas Decor Essentials