We completed our kitchen renovation with a new set of appliances from Frigidaire. The French-door refrigerator, front control range, and dishwasher fit seamlessly in our renovated space while increasing our kitchen's efficiency and meeting our family's needs.
We recently completed a kitchen renovation (see it here), but like any major project, it's never really finished, is it? There will always be something to change or replace as you live with the space, no matter how small or how big.
So while we shared our finished renovation a few months ago, we knew there would still be additions to make in the weeks and months ahead. I've added a few new pieces of decor and we installed a custom roman shade, but the biggest change we made was replacing our kitchen appliances. It's a big investment, but one that is worth it.
We purchased our previous Frigidaire appliances from the Professional series in 2012 when we moved into our home, but while we were renovating our kitchen we debated whether we would replace them. They were all still in great condition and working well, but we really wanted the clean look of a front control range.
We thought about selling our fridge but decided to move it to the laundry room and it was such a good decision. We've never had two fridges in this house, and the extra fridge space has been so nice. We moved our range to our family cottage and sold our dishwasher to a lovely family. So we didn't feel any guilt about replacing our perfectly good appliances with brand new ones.
As I mentioned, we had our previous Frigidaire appliances for a number of years and have been very happy with them, so we were thrilled to partner with Frigidaire this time around. We were even more excited to discover our new appliances had so many new features, like a flex temperature drawer in the refrigerator and a range with air fry!
We thought it would be great to share a little more about each appliance and the features that we love.
Frigidaire Gallery 4-Door French Door Refridgerator
Our fridge (Frigidaire Gallery 4-Door French Door Refridgerator) is wonderful! Not only is it spacious, but it's beautiful too. The French doors give it a professional look and the full-width shelves provide versatile storage options, I especially love the flip-up shelf to store taller items.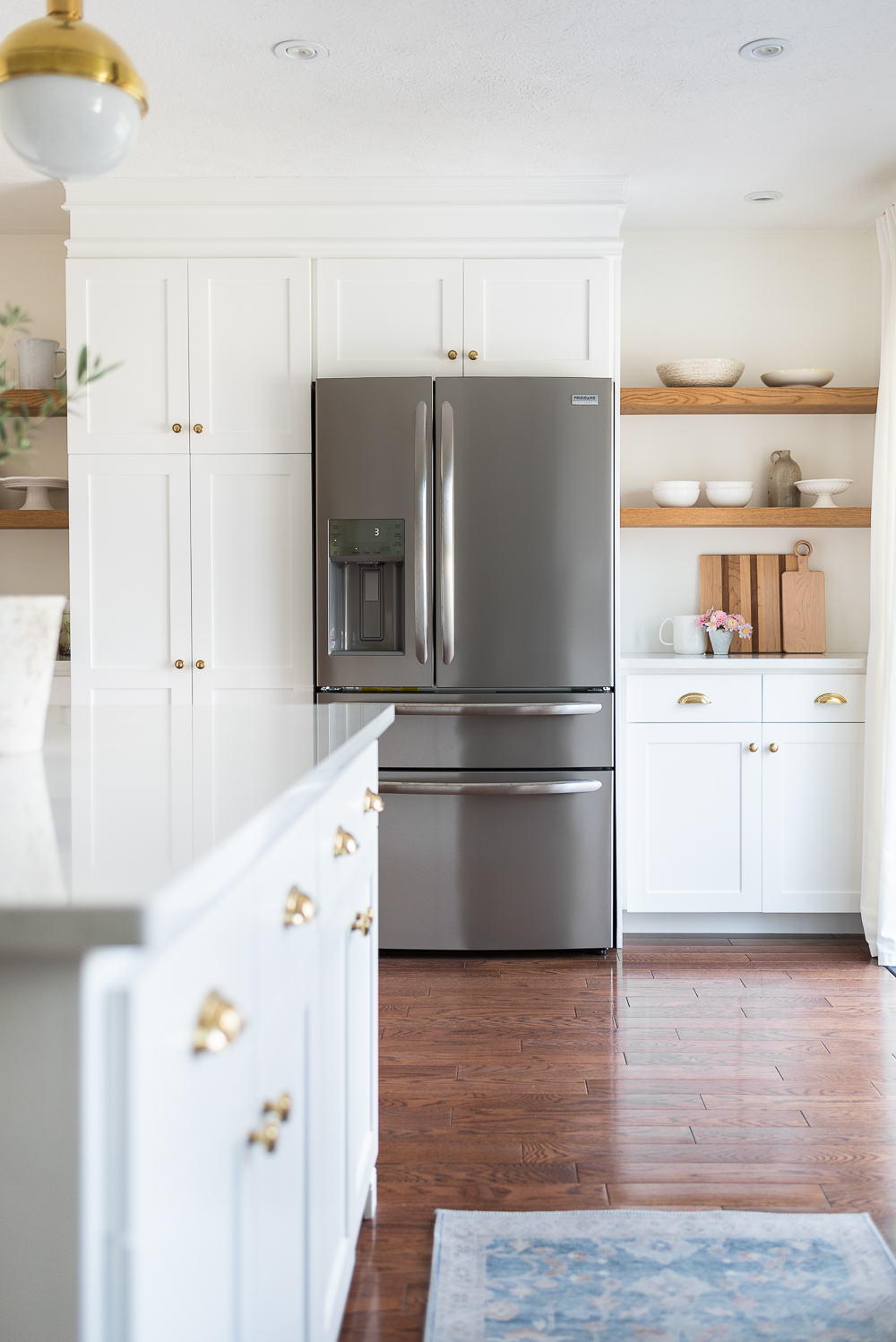 It also boasts CrispSeal crispers with auto humidity, a feature that automatically removes excess moisture and blocks on dry air to keep produce fresher longer. This is perfect for us because we love our fruits and veggies!
I think our favourite feature is the Custom Flex Temp drawer though. It's the additional middle drawer that transitions from fridge to freezer depending on your needs. We have been using it as a snack drawer to hold cheeses, meats, and dips, and it's saved us so much space in the main portion of our fridge. I love that we can use it as a freezer too, if we need it. I think it's going to come in very handy during the holidays.
Frigidaire Gallery Front Control Electric Range with Air Fry
There are so many things we love about this range (Frigidaire Gallery Front Control Electric Range) from the way it looks to the way it makes cooking and baking faster and healthier.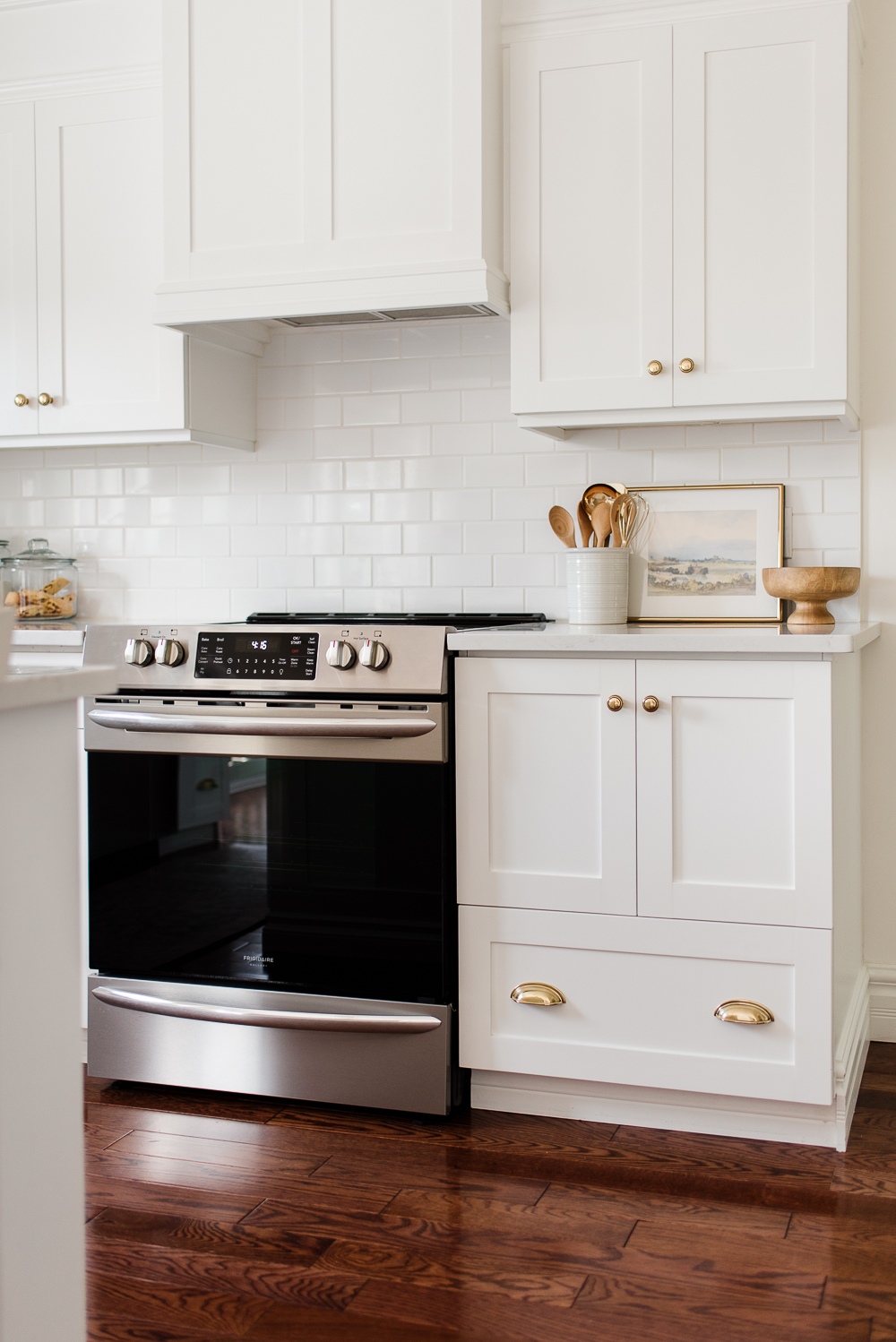 The clean lines and simple look of the front control is just the look we wanted to achieve in our kitchen. I love the idea of propping a beautiful cutting board here or even hanging an art piece above it, it just gives a few more options for decorating.
Looks aside, it's also super practical. Its Air Fry function lets us make healthier meals, we've made a few batches of our Crispy Oven Baked Chicken Wings using the air fry function and they turned out amazing.
It also has a True Convection feature which helps circulate hot air throughout the oven for faster and more even baking. It has me looking forward to all of the holiday baking we will be doing this year.
Frigidaire Gallery Built-In Dishwasher with EvenDry System
Last but not least, our dishwasher (Frigidaire Gallery Built-In Dishwasher) has been a lifesaver. It has this new feature called the 30 Minute Quick Clean and cleaning a load of dirty dishes in 30 minutes has been life-changing!
It also has DishSense technology that automatically adjusts the cycle time based on how long it needs to run to clean the dishes.
We've been so happy with our new appliances from Frigidaire and are so glad we decided to swap out our previous ones. And even though we know there will be small changes made to our kitchen over the years ahead, we feel confident our kitchen renovation is finally complete.