This DIY wood play kitchen with sweet details like wood knobs and handles makes a sweet addition to a little one's playroom or bedroom.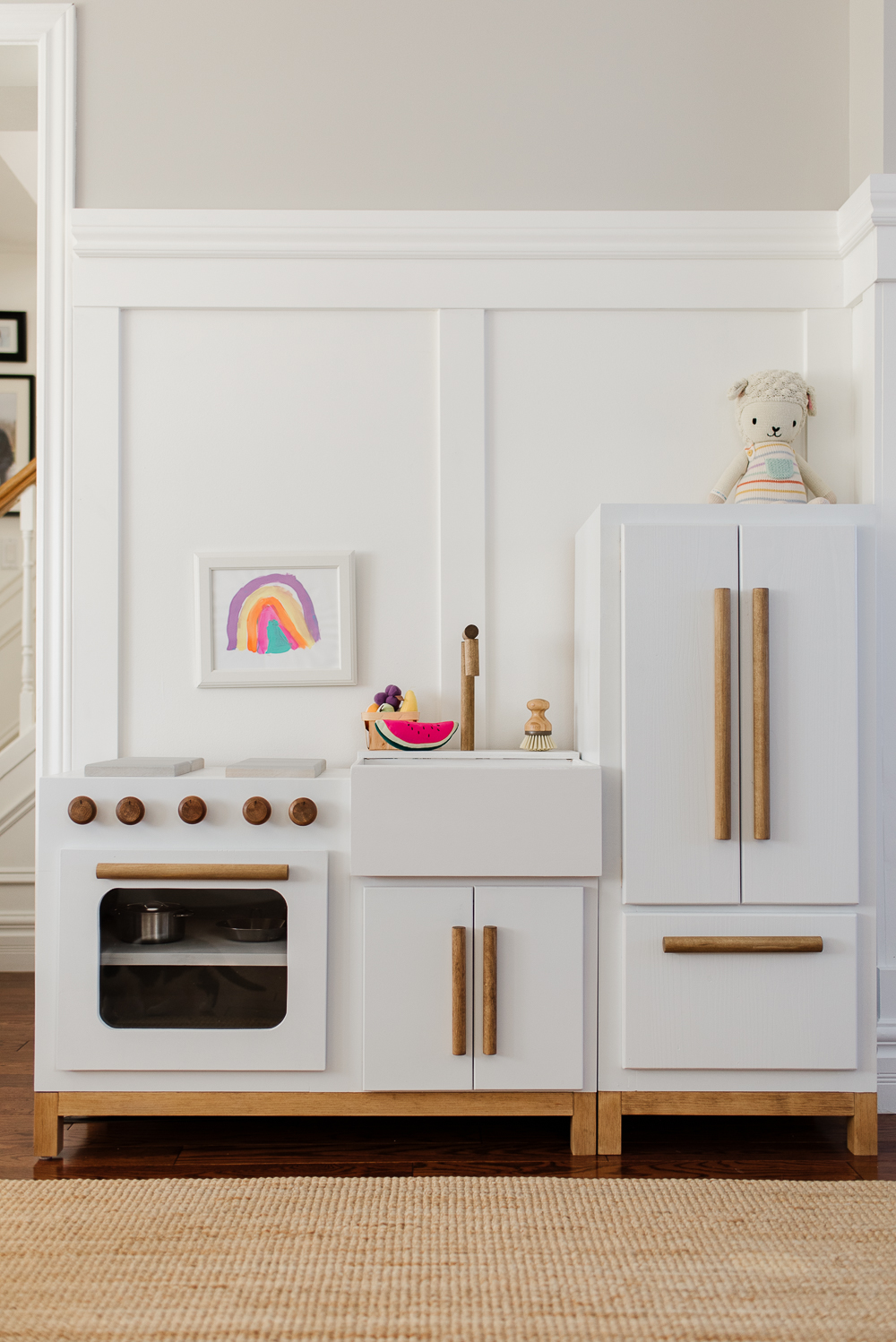 Click the link below to access the free plans sponsored by Kreg Tool
Like most children, our girls love imaginative play and will spend hours together playing house, doctor, and school. So deciding to build them an adorable play kitchen to add to their playroom was an easy decision. I've always loved this play kitchen and while it's absolutely beautiful it does come at a high price. So in order to give the girls a beautiful wood play kitchen while staying on budget, we did what we normally do, we built our own.
We used this kitchen as our starting point and made changes and additions to create a sweet and adorable DIY wood play kitchen any child would love.
It turned out so well, but that's not surprising, Nick's projects always do (see all of our projects here). Really, I think it's all in the details, like the farmhouse sink, wood knobs that actually turn, and swiveling wood faucet.
Nick used his Kreg 720 Pro Pocket Hole Jig to build the main components of the play kitchen, which he also used to build the cabinet boxes for our real kitchen that we recently renovated (see it here).
Initially, we had decided to paint the kitchen a soft blue or pastel pink, which I thought the girls would love. However, Zoe surprised me when she asked if it could be white "like a real grown-up kitchen". We ended up painting it Lily White by Benjamin Moore which has a slight blue undertone to it. I still think it would have been so sweet in a playful colour, but we're happy to accommodate our girls' input. After all, we built it for them.
We used this paint to spray paint the farmhouse sink and this paint to paint the inside of the stove to give it a bit of depth. If you want to skip this step and leave the inside of the stove natural that would look really beautiful too.
The wood details give the play kitchen some warmth and that heirloom-quality look and feel. Nick used wood knobs and dowels for the range knobs and appliance handles stained in this colour. The girls love that the knobs actually turn, just like a real range.
It came together so well and has made a great addition to our playroom. The girls are so happy with it and have been playing house for hours on end. You can find the free plans to build your own DIY Wood Play Kitchen here. It would make a sweet Christmas gift for any little ones on your list.
Click the link below to access the free plans sponsored by Kreg Tool