Styling a holiday porch is simple with these three easy additions, fresh garlands and wreaths, twinkle lights, and a potted Christmas tree.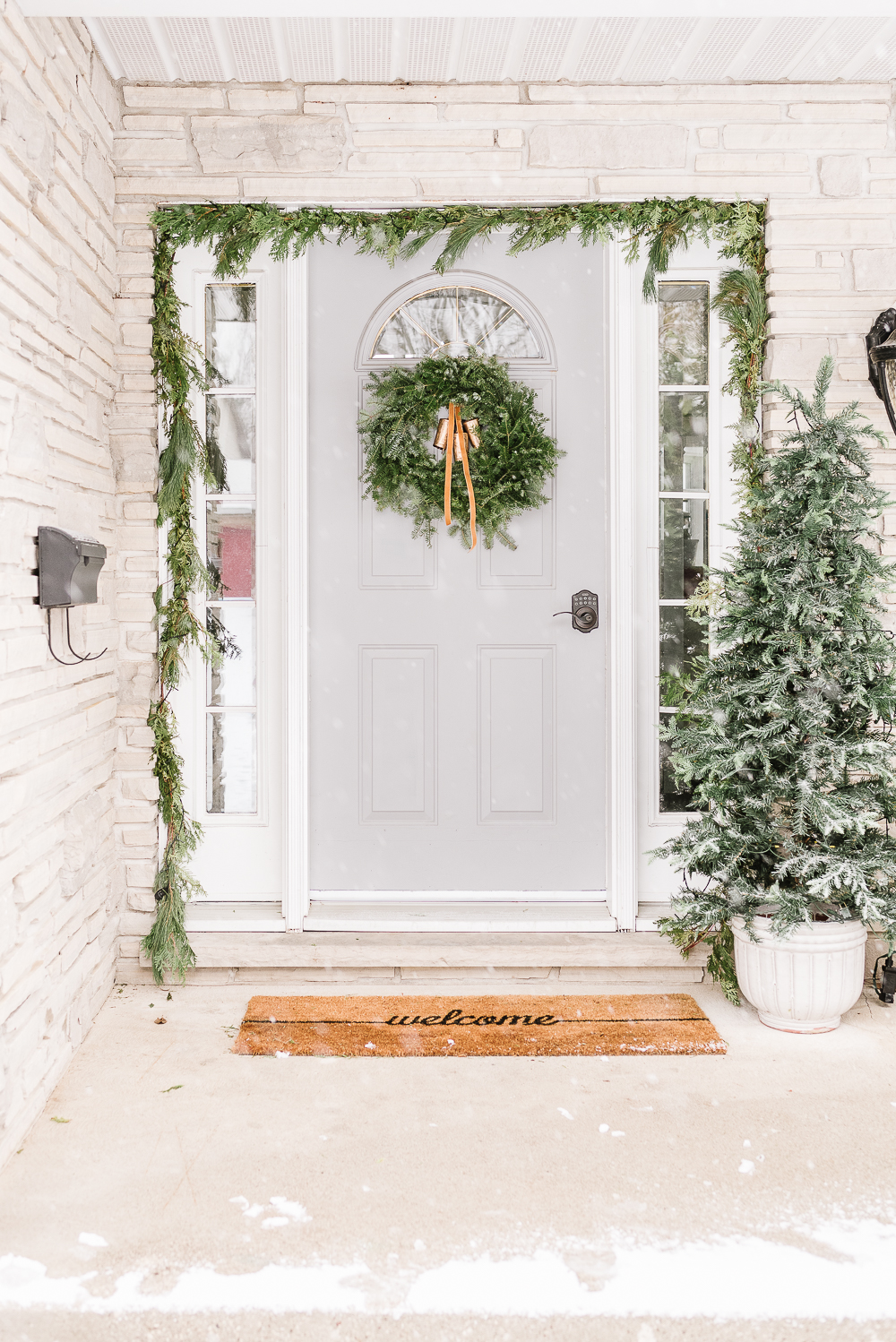 Every year, I typically rely on the same classic pieces to decorate our home's exterior for the holidays, fresh greenery, twinkle lights, velvet ribbon, and a few brass bells. It's a simple and relatively inexpensive formula to create a welcoming first impression for our guests.
Tips to Style a Holiday Porch
#1 Add Greenery
Whether faux or fresh, greenery is such a simple and beautiful way to decorate for the holiday season (see our favourite ways to decorate with holiday greenery here). It adds a touch of texture, colour and if you're using fresh, an amazing scent that is reminiscent of the season.
In past years, I've always used pre-lit faux garland and filled it out using fresh greenery branches. It's a great way to create a substantial and full garland, although it takes some time. However, this year I decided to use fresh garlands of cedar and white pine instead. It's a beautifully simple look while taking a lot less effort to hang. I simply draped it over nails I placed in the corners and center of the top of the door frame.
If you want to add Christmas lights to the garland, be sure to wrap them before hanging.
#2 Hang a Wreath
A fresh pine wreath looks so classic hung on the front door for the holiday season. I adorned it with a velvet ribbon and a set of brass bells for a little extra detail.
#3 Include a Potted Tree
A faux pre-lit potted tree fills in the empty space and adds more twinkling lights.
Have fun decorating your front porch for the season to create a welcoming and inviting first impression for your guests.