Feel inspired with these 50+ pieces to refresh your home for spring.
Spring is approaching and it has me thinking about the subtle changes we will make to our home as the seasons begin to shift. It's about shedding the extra layers we brought in during the winter while incorporating a few new pieces to help our spaces feel refreshed and new. And while it's fun to embrace popular trends, I tend to lean towards traditional pieces that feel timeless. So while they feel new at the moment, I know these pieces will have a place in our home for many seasons to come.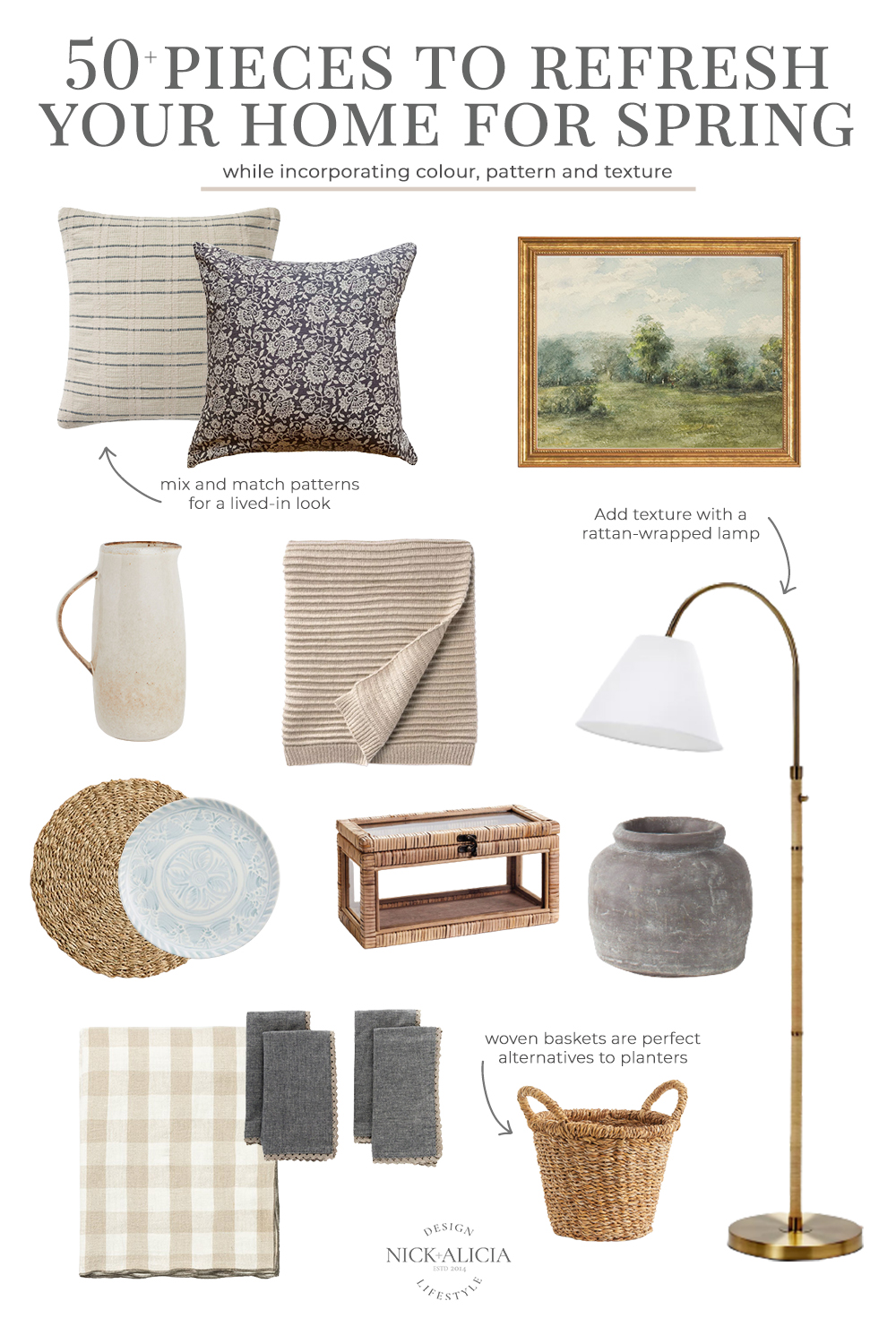 Striped Pillow | Floral Pillow | Art | Pitcher | Throw | Lamp | Charger Plate | Plate | Display Box | Vase | Tablecloth | Napkins | Basket
For me, transitioning our home from winter to spring has always been about the little details. I'll be incorporating a mix of patterns, textures, and colours into our home to create a welcoming space that reflects the season.
Textiles like pillows, throws, and even kitchen towels are an easy way to introduce patterns and colour to your space. This spring lean towards florals, gingham, and stripes to give your home a collected and lived-in feeling. Entertaining essentials, like napkins and tablecloths, are another easy and inexpensive way to update textiles each season.
Another design element that speaks to the seasons is texture. Try adding pieces made from seagrass, cane, rattan and, jute to add a layer of interest and warmth to your home. And don't forget substantial ceramics with a handcrafted look, they are also a wonderful way to add textural interest to your space. A jute rug, seagrass wrapped lamp or ceramic vase are all simple ways to embrace texture.
Our home's colour palette is another important element when it comes to design. Breathing new life into your home is as simple as incorporating a new hue. During the winter months, I used a lot of natural tones throughout our house to create a feeling of warmth. I will continue to use these warm hues while adding a bit of blue again as springtime arrives.
50+ Pieces to Refresh Your Home for Spring