Recreate this adorable horse birthday party with these simple ideas for decorations, goodie bags, and activities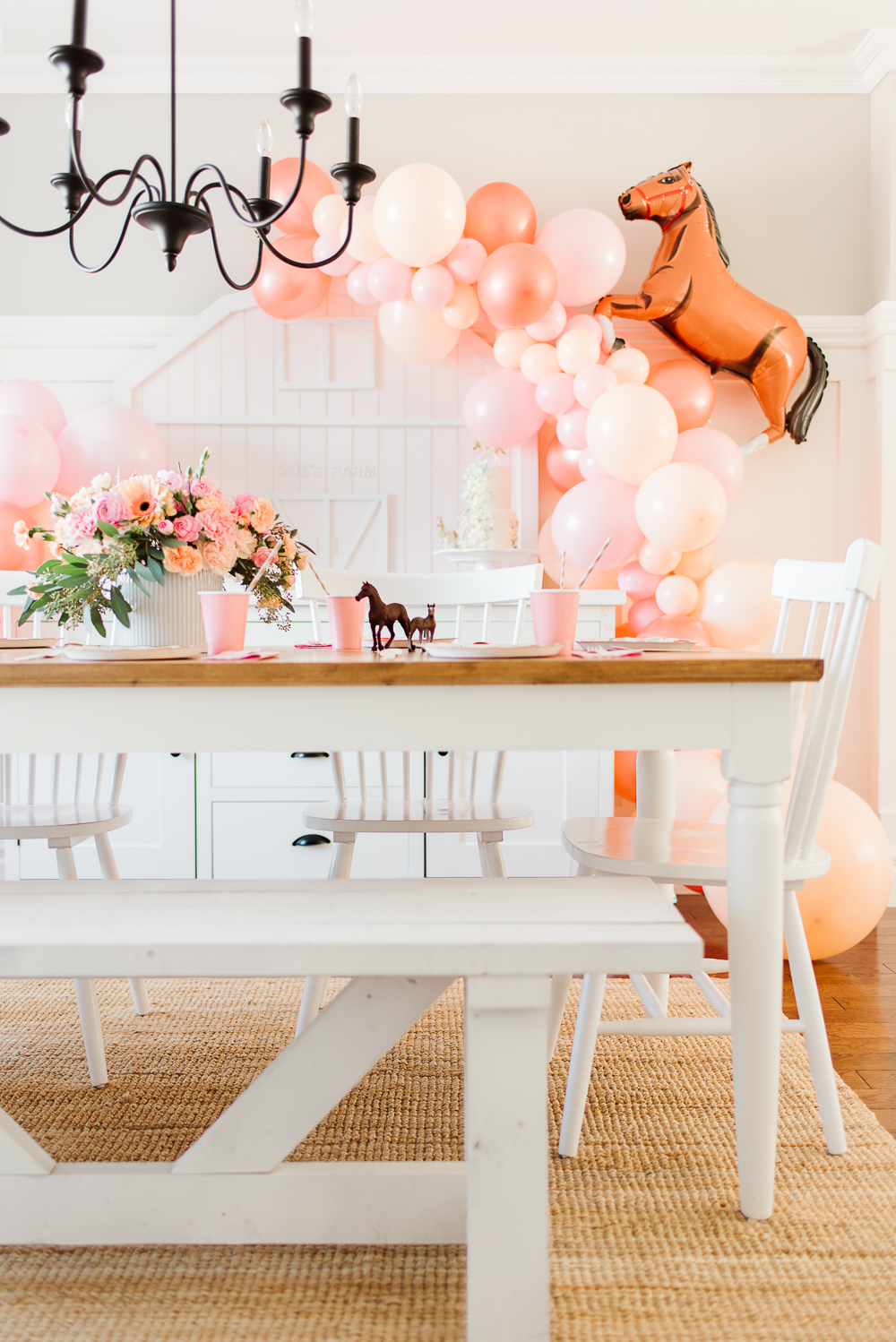 Each year we celebrate our girls' birthdays with a themed party of their choosing. It's such a fun way to celebrate their unique personalities and interests. In the past, our girls' have chosen parties centered around teddy bears, butterflies, flowers, a circus, and rainbows to celebrate their special days.
I really enjoy planning the parties we host at our home, and while they've looked a little different the past couple of years, I still do my best to throw the girls' parties that are just as special as they are.
Zoe's taken an interest in riding and horses lately, and this year she decided she wanted a horse-themed party. I was expecting this idea and I knew we could have a lot of fun with this theme so I was just as excited as she was. We really enjoyed searching for inspiration online and came across this party which she loved so I was happy to use it as our inspiration.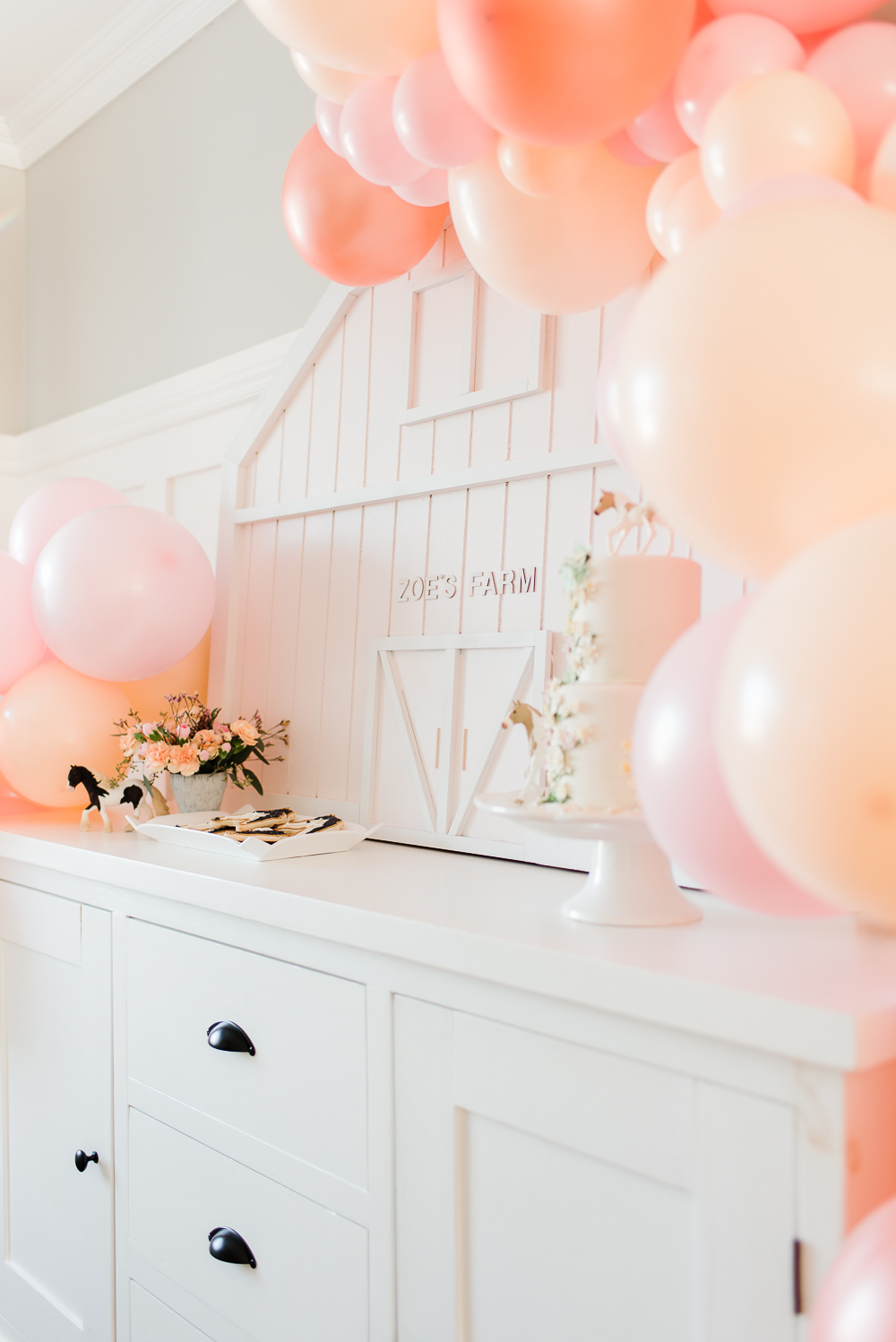 The Table
Our dining room always takes center stage for Zoe's parties as her birthday is in the middle of winter so we cannot be outside. Our dining table is big enough to comfortably fit all of her friends, especially when we include a bench seat too.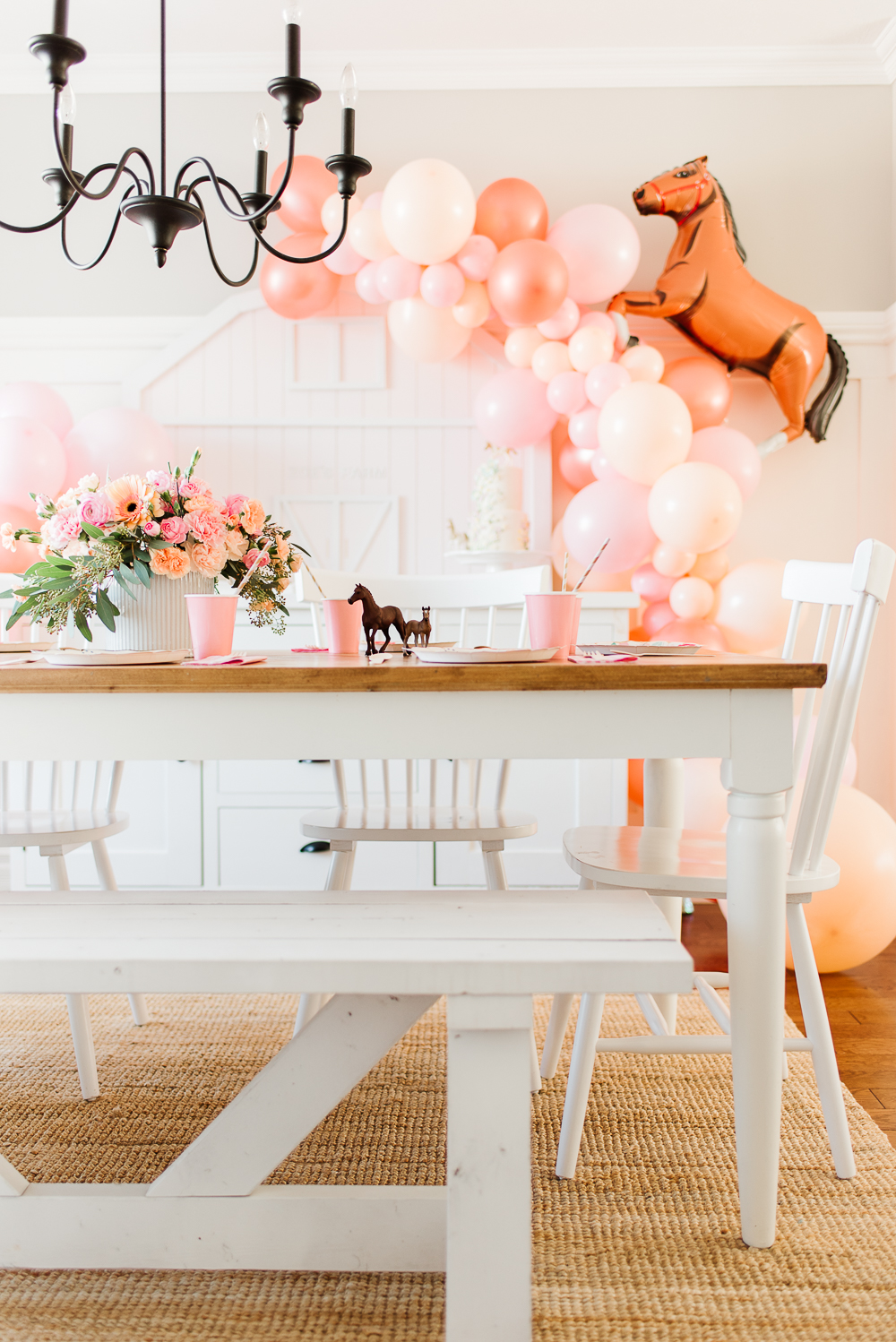 The table was set using floral plates, pink cups, gingham napkins, and wooden cutlery. I cannot find our exact set online, but I love these gingham plates, cups, and napkins and they fit the theme perfectly. The mix of colours and patterns is fun and using disposable makes the end-of-party clean-up so much easier.
I created a beautiful floral arrangement using a mix of ranunculus, gerbera daisies, spray roses, carnations, and seeded eucalyptus. Living in a small town, finding unique flowers on a budget can be difficult, I always visit our local flower shops to find a few special varieties and then fill in the rest of the arrangement with budget-friendly grocery store flowers. I always make sure I save a few flowers to create a miniature arrangement that can be placed on the sideboard or in the kitchen to help fill in any empty spaces while I'm decorating.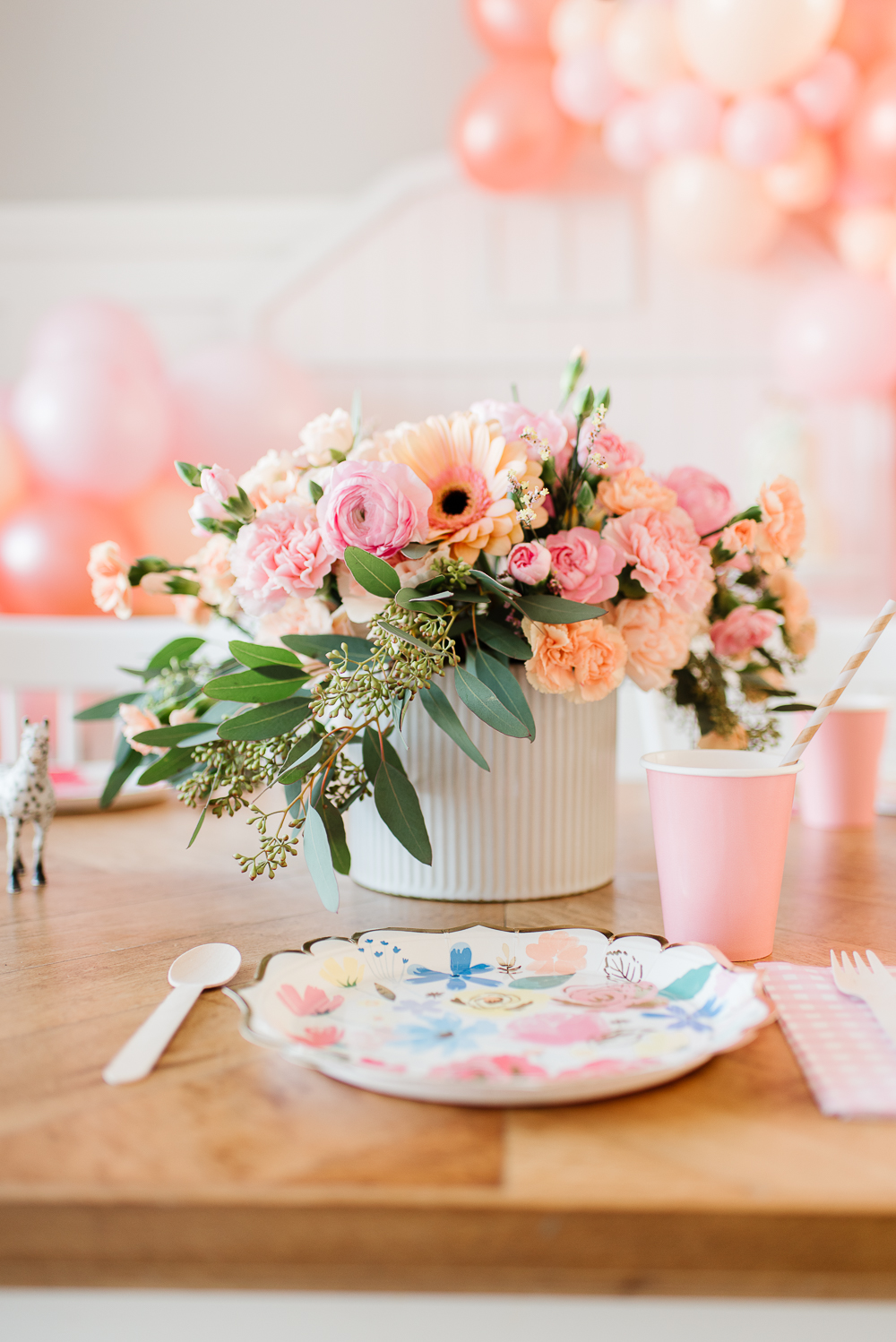 Finally, I used some of Zoe's toy horses to line the table for a playful touch.
The Barn
The pink and white barn with Zoe's name was such a fun and personal element to add to her party. Nick built it using leftover wood from his shop and paint we had from past projects. We propped it on the sideboard and it was the perfect backdrop for all of the other party decor.
The Balloon Garland
We almost always have a balloon garland at the girls' parties. They are such a fun, beautiful, and inexpensive way to decorate. Over the years I've learned some tricks to make the process even easier. This year was my first time ordering from this online retailer and I was so happy with the selection and delivery time.
I choose the Kalisan Pastel Matte Macaroon in pink and salmon (5″, 12″ and 24″), Qualatex Metallic in rose gold, and two foil horses in brown and tan, which were a huge hit!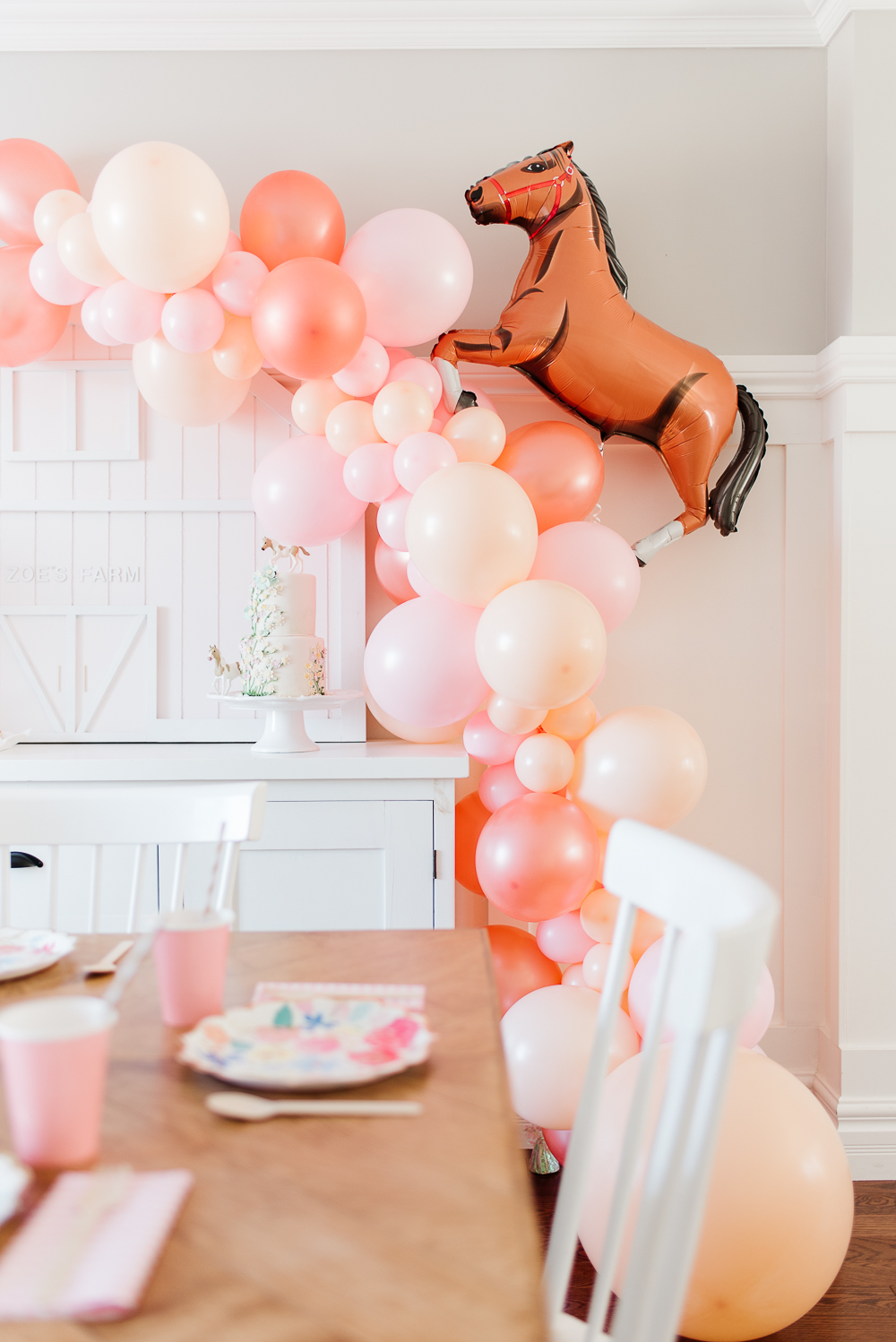 To make the garland I start by blowing up the balloons. Using this electric pump I blow up one balloon and hold it closed while I blow up a second balloon of the same size and then tie them together. I repeat this process until I think I have enough balloons to make the garland. In this case, I used approximately eighty 5″ balloons, twenty 12″ balloons, and one 24″ balloon. I use fishing line to twist around the balloon pairs adding two at a time until I've made the garland the right length. Once it's finished we hang it using nails or command hooks.
The Treats
The girls' birthday cakes are probably the part I look forward to the most. For years now we've worked with a local cake designer to make the girls' cakes and she's never let us down. Her cakes are truly a work of art, and I almost hate to cut into them.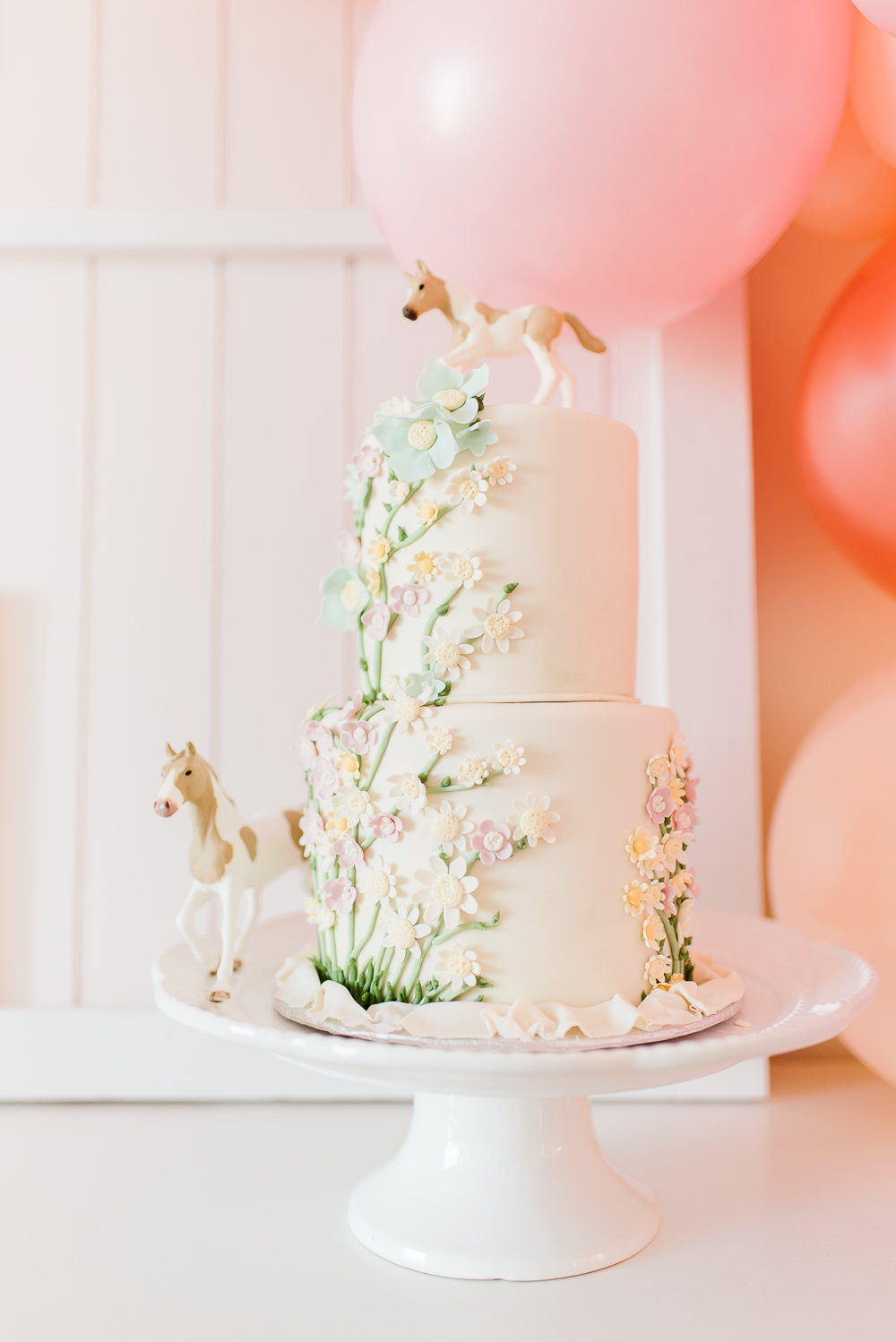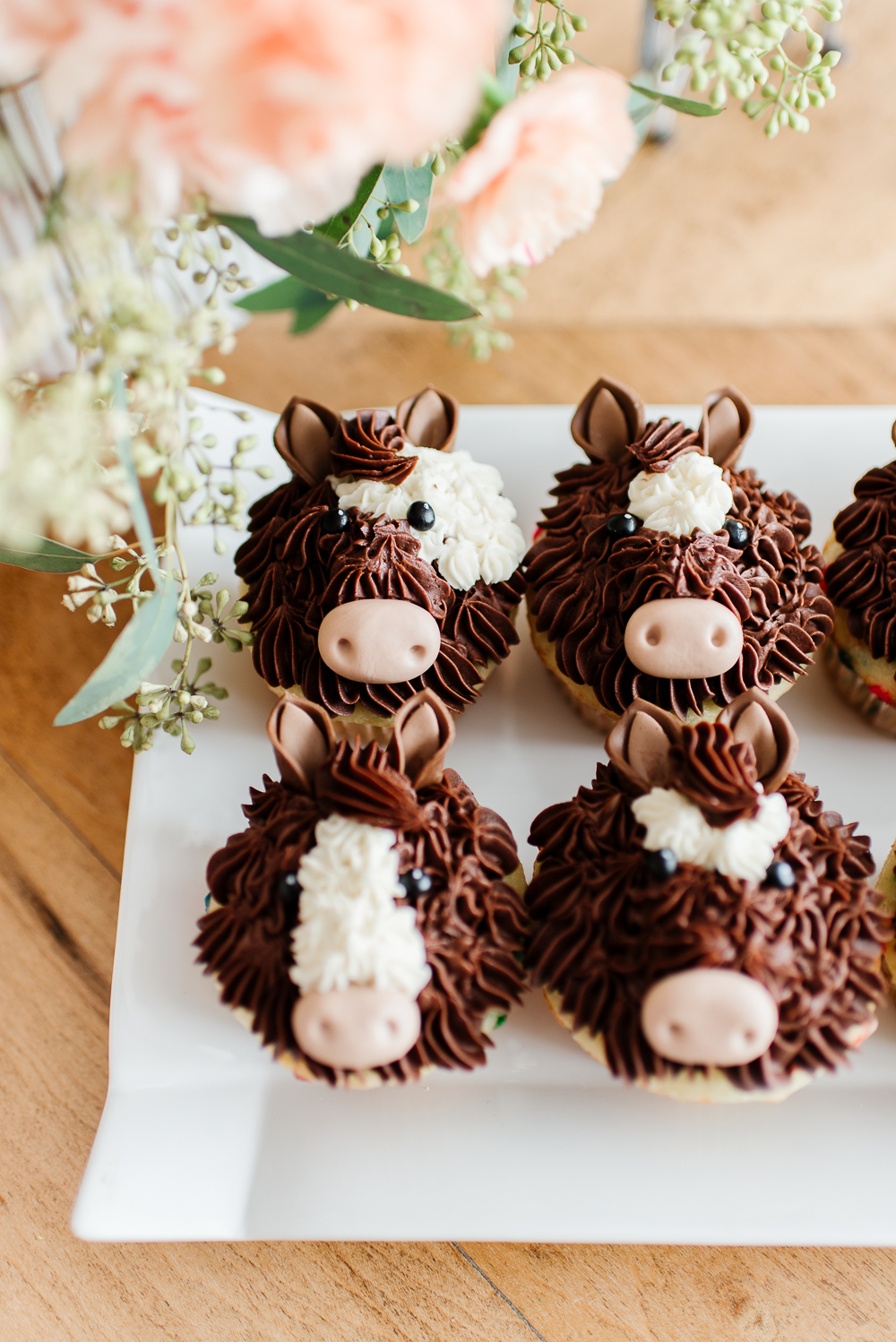 For Zoe's party, she made a two-tiered cake with the most delicate pastel-coloured flowers climbing the sides and we used two more toy horses to finish it off (mare and foal). The idea was to create a cake that brings to mind a meadow of wildflowers for where horses run and play.
She also created adorable horse cupcakes too, and Nick made horse sugar cookies to send home in the girls' goodie bags.
The Crafts
We always make sure we have a few fun crafts planned to keep the girls and their friends busy. Zoe and her guests' decorated wooden horses (similar) with paint, flowers, and stickers. It was an easy, inexpensive, and fun craft for them to make and take home.
The Goodie Bags
Goodie bags are a fun and thoughtful way to thank guests for attending your party and kids love the idea of getting a little something special too. I always try to keep our goodie bags centered around our theme so this year we sent each friend home with their own toy horse, packaged in a cellophane bag filled with shredded paper to resemble straw and tied with a ribbon.
It's always so nice to watch Zoe enjoy her special day with a celebration that reflects her unique personality! It can be a little extra work to host a themed party, but seeing it all come together and the joy it brings is definitely worth it.