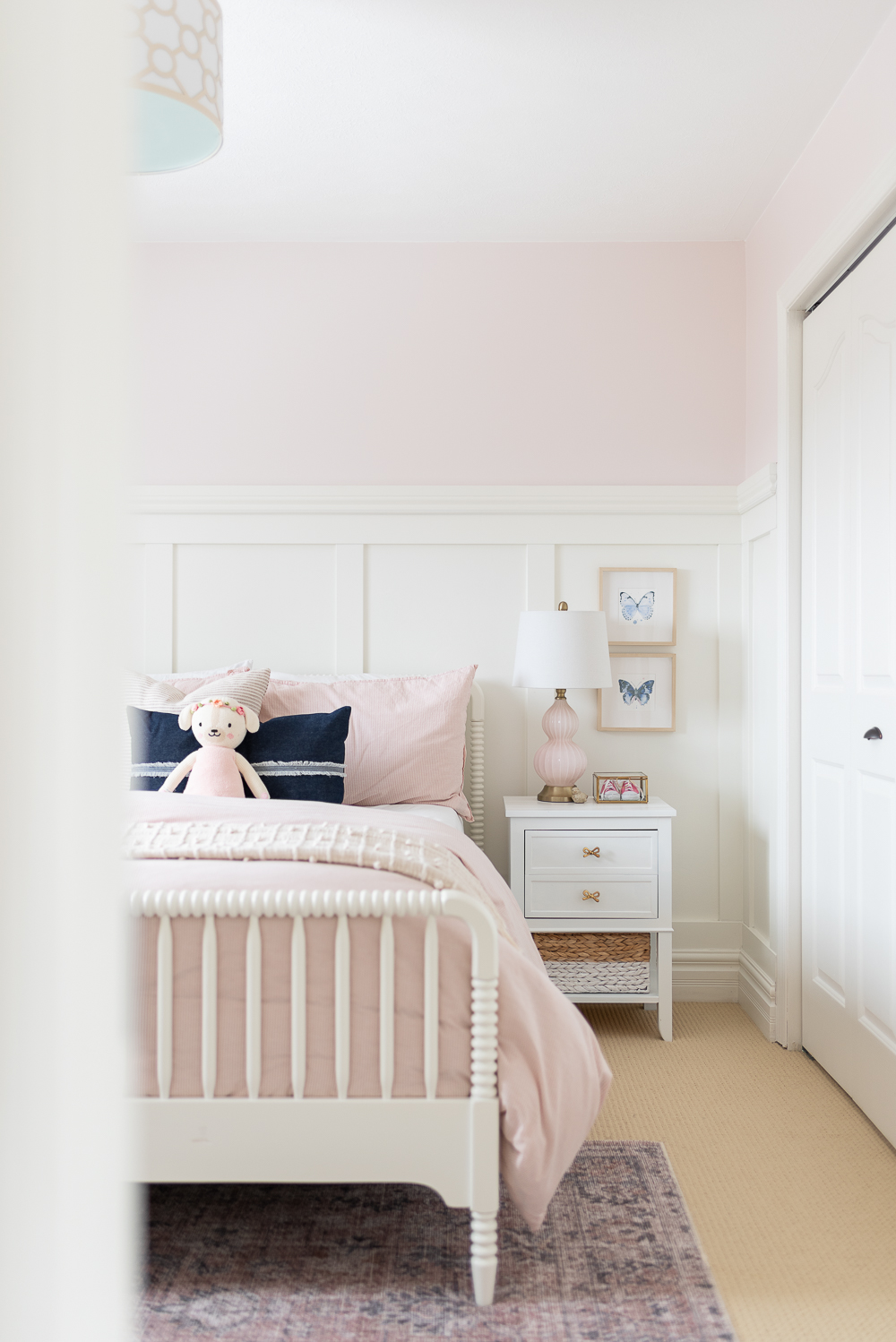 A few months ago we began transitioning Ella's sweet nursery into a big girl bedroom that suited her growing personality. I found it really difficult to say goodbye to her adorable nursery but seeing how excited she was about her new space made it all worth it.
During both of my pregnancies, we waited until our babies were born to find out their gender. This meant both of their nurseries were designed with gender-neutral colours and decor. However, with Baby #2, we kept the space very minimal (see it here) as we were going to add personality and colour once the baby arrived. A few months after Ella was born, we began adding elements to her nursery that spoke to her sweet and cheerful personality (see it here). So when it came time to transform her space I knew it was going to be hard to create a bedroom that we loved as much as her nursery, but I was willing to give it a try.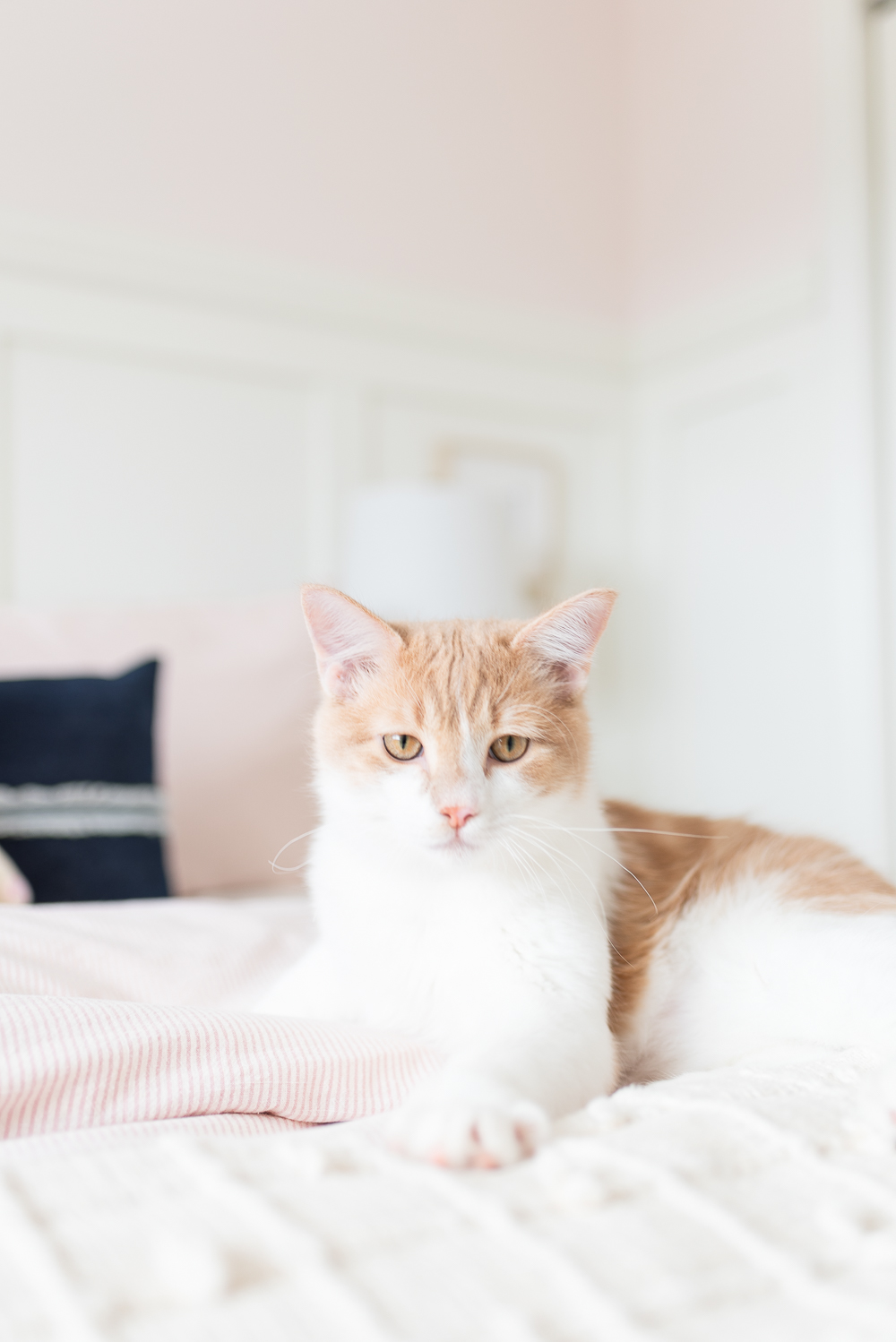 Before starting on a design plan for her room I made sure to take time to discuss the ideas and opinions she had for her space. When decorating your little one's bedroom it's so important to involve them in the process, after all, it is their bedroom and you want to make sure you're incorporating their interests and personality too.
Aside from a colour palette of pink and blue, Ella didn't have a lot of requests for her bedroom. So, while creating the initial design plan for her space, I made sure to incorporate her chosen colours along with elements that I knew matched her cheerful personality.
The Finishes
When we designed Ella's nursery we installed board and batten wainscotting in her bedroom. It adds an architectural element while creating a cohesive flow throughout our home. The trim and board and batten are painted Simply White by Benjamin Moore, it's a beautiful warm shade of white.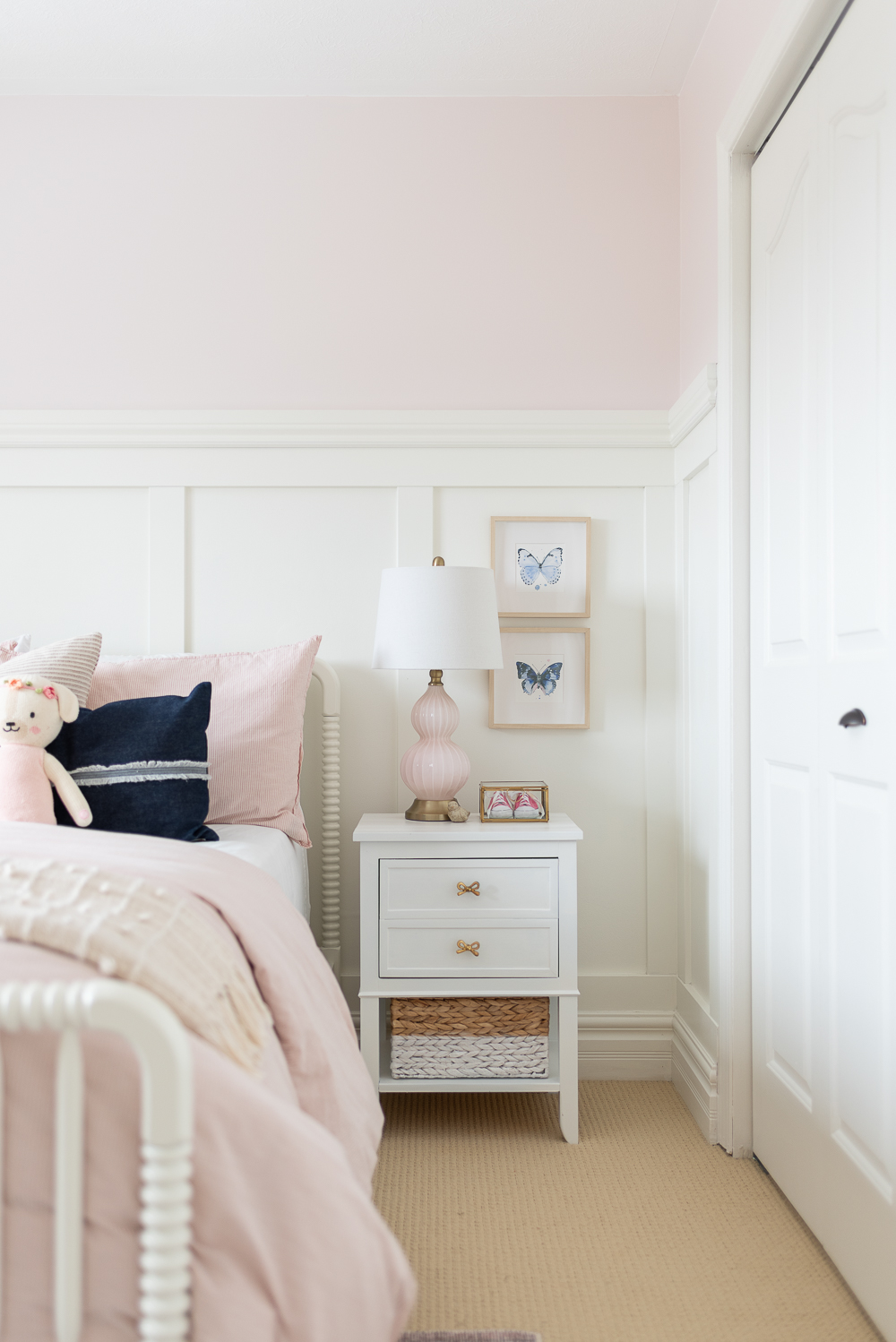 We covered the purple walls in a beautiful shade of pink at Ella's request. We tested so many different shades of pink but ended up using Pink Bliss by Benjamin Moore again. It is such a soft shade of pink and so perfect for a little girl's bedroom.
The Furnishings
It all started with this beautiful bed. I've always loved the intricate details of Jenny Lind furniture, I find it so feminine and classic. That's why I chose a Jenny Lind style crib for Ella's nursery and why I chose the same style for her new bed. I found a great dupe to the original and we've been so happy with it.
We debated getting a twin bed to give her more floor space to play, but in the end, we went with the double as so many of our readers pointed out the girls have a playroom of their own and a bigger bed is so much better for snuggles and bedtime stories.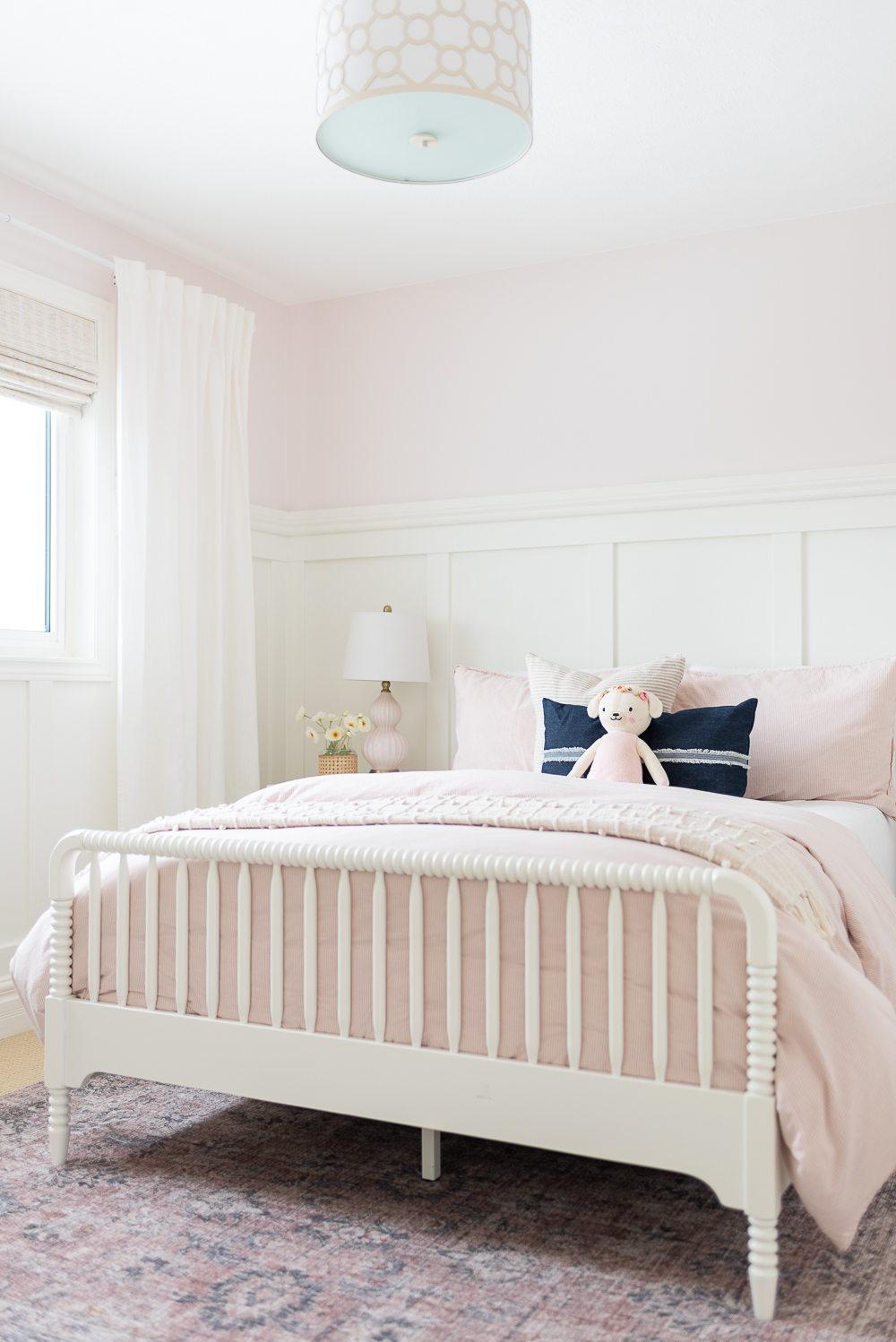 The bedside tables and lamps are a swap from Zoe's bedroom (see it here). Nick initially built the bedside tables (see the plans here) when we transitioned Zoe from her nursery into a bedroom. We gave the tables a fresh coat of paint and added the adorable bow hardware as a sweet detail. The baskets underneath are a great place for Ella to store a few of her favourite toys and treasures.
We kept her existing dresser, and simply spray painted their original hardware in a brass finish. Spray painting hardware is a quick and inexpensive way to give an old piece of furniture a fresh look. We used this spray paint
The Details
Even though Ella's bedroom is carpeted I chose to add a rug to the space. Layering a rug over a low-pile carpet is a great way to add colour and pattern to a bedroom (see how to choose the perfect rug for a kid's bedroom here). I ended up choosing this rug because the colours are perfect, it's easy to clean and it's a budget-friendly option.
Soft pink lamps flank her bed, alongside two beautiful custom butterfly watercolour paintings. We had a lovely artist reach out to us with an offer to send us custom art for the girls' bedrooms. Kathy from Little Splashes of Color is such a talented artist and her art looks right at home in Ella's bedroom.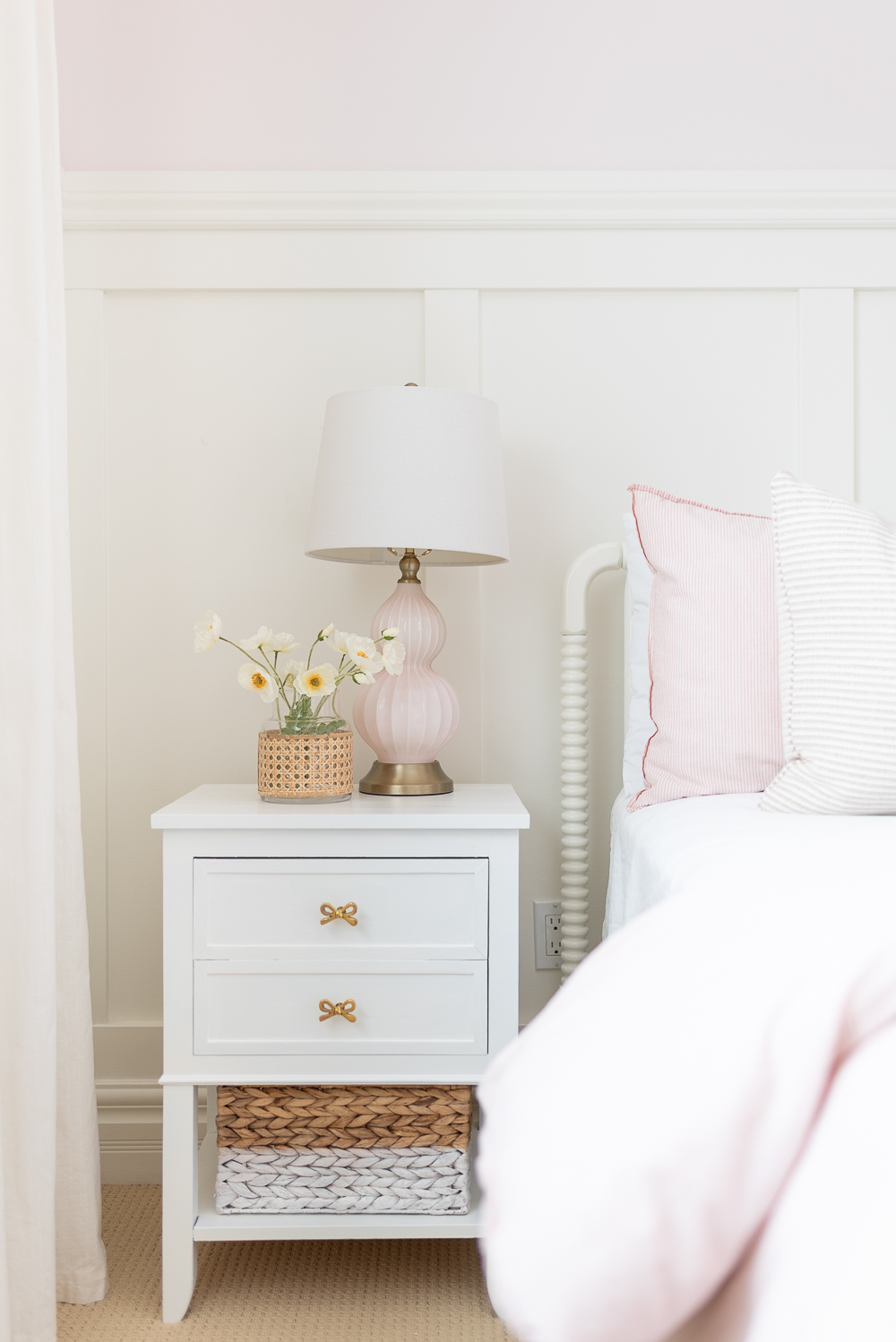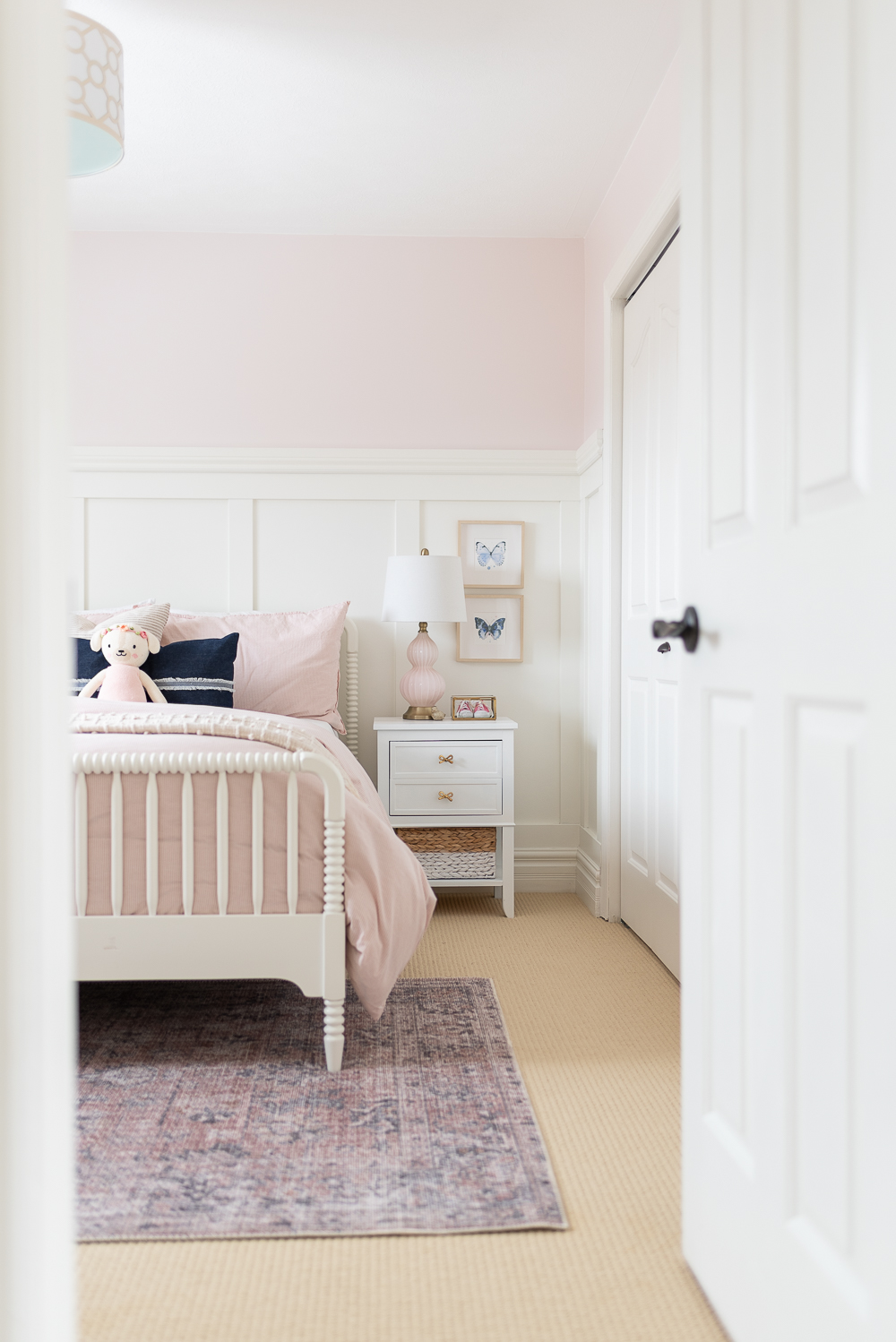 A small glass box displays a pair of Ella's baby shoes. I love the idea of incorporating meaningful pieces into a child's bedroom, it's a fun and easy way to add personality and character to the space.
Along the dresser, I layered two beautiful art prints, a basket with a couple of Ella's well-loved stuffed animals, and another lamp to give her room a soft and cozy glow at bedtime.
I will continue to add pieces to her bedroom as I find them, like a new ceiling lamp and patterned sheets, I think her room came together so beautifully. She has a sweet and colourful bedroom that perfectly reflects her happy personality.
---
Details at a Glance
Walls | Pink Bliss by Benjamin Moore
Trim | Simply White by Benjamin Moore